Kalkidan Yibeltal
BBC News, Addis Ababa
The top leadership, or synod, of Ethiopia's Orthodox church, the largest religious denomination in the country, has threatened to call nationwide rallies to be led by its patriarch, Abuna Mathias.
The church has criticised Prime Minister Abiy Ahmed's recent statements regarding rogue clergy involved in the appointment of bishops without its knowledge.
Mr Abiy's lengthy remarks, broadcast on national television on Tuesday, came after the church's synod excommunicated the breakaway clergy, who are from the country's Oromia region.
He warned his cabinet members against getting involved in the church's affairs. However, he said both sides "have truths."
The synod said the PM's remarks disregarded its decisions, challenged its authority and gave recognition to an "illegitimate power-hungry" group.
Some of Mr Abiy's statements were "misleading", it added.
The breakaway clergy accuse the church of maintaining a system of linguistic and cultural hegemony in which congregations in Oromia are not served in their native languages. The church denies the accusation.
The breakaway clergy said they had "overwhelming" public support after touring some areas in the conflict-prone western Oromia.
The synod's statement comes amid accusations among the faithful that authorities are supporting the breakaway clergy.
It accuses the government of harassing and detaining its senior figures. It vows to continue to speak out even if they [senior religious leaders] have to "sacrifice their lives."
Relationships between Mr Abiy's administration and the church – which boasts nearly half of Ethiopia's 110 million population as its adherents – were positive in the early days of his tenure.
However, in recent years members of the faith group have reported being targeted.
Relations became particularly strained during the heights of the Tigray war after Abuna Mathias spoke against what he called genocide in the region.
By Rebecca Trenner, CNN
Johannesburg, South AfricaCNN — Car crashes, opportunistic criminals, rotting food, decomposing bodies, bankrupt businesses, and water shortages. Welcome to life under South Africa's power blackouts.
Last week the grim extent of the outages was laid bare when South Africans were advised to bury dead loved ones within four days.
In a public statement, the South African Funeral Practitioners Association warned that bodies in mortuaries were rapidly decomposing because of the unrelenting electricity outages, putting huge pressure on funeral parlors struggling to process corpses.
The situation is so bad that the country's President Cyril Ramaphosa is considering declaring a national disaster, similar to one in 2020 at the height of the Covid pandemic, which had a devastating effect on the country's economy.
Last week scores of supporters from the Democratic Alliance opposition party marched under heavy security through the streets of Johannesburg and Cape Town to voice their frustrations over the persistent blackouts.
A difference between life and death
Known locally as loadshedding, widespread electricity blackouts are carried out multiple times a day by state-owned energy utility Eskom to avoid the total collapse of the grid.
Shortages on the electricity system unbalance the network, and Eskom has stated that controlled outages are necessary to ensure reserve margins are maintained, and the system remains stable.
While the country has been experiencing on-off power outages for years, since September 2022 scheduled blackouts have become routine, affecting every part of South African society.
For some people, not having access to reliable power can be the difference between life and death.
Before she died in October 2022, Lis Van Os needed oxygen for 17 hours a day. Her stationary oxygen machine required mains power, making periods of loadshedding extremely stressful, particularly when power did not return as scheduled, her family said.
Her daughter Karin McDonald was forced to explore backup options such as inverters and a back up oxygen mobile tank, which only lasted short periods.
"Towards the end (of her life) power outages created a lot of anxiety for everyone," she said.
'A pool of misery'
South Africans experienced more than twice as many power cuts in 2022 than in any other year. And things are set to get worse in 2023.
Even simple daily tasks need to be arranged around loadshedding schedules, including meal planning, travel times, work that requires internet connectivity.
From preparing baby formula to keeping fans running during the summer heat, not having access to mains power is makes daily life challenging for South Africans.
Maneo Motsamai, a domestic worker in Johannesburg, says the outages prevents her from simple tasks such as cooking.
"I boil water to cook mealie meal (maize porridge) and the power goes. I can't eat, it's a waste. I can't cope like that," Motsamai told CNN.
Pump stations can't provide water and many small businesses without access to backup power are having to close shop and lay off employees, according to people CNN spoke to.
Thando Makhubu runs Soweto Creamery, an ice cream shop in Jabulani, Soweto, on the outskirts of Johannesburg. His family pooled small welfare grants they received during the Covid-19 pandemic to set up the business, but are now feeling the pressure from power outages.
In early January, the shop was without power for 72 hours, when electricity did not return as scheduled. Thando was forced to shell out money for diesel to power their generator and prevent all his stock melting. He says the outages are costly and destroying their hopes of expanding.
Bongi Monjanaga, who runs a startup cleaning services company operating across Johannesburg, says the outages affect every part of her fledgling business, such as operating electric cleaning equipment, entering and leaving premises when security gates aren't functioning, and having internet to invoice clients and complete online tax compliance documents.
"I find myself in this pool of misery when I'm just trying to start up. I'm just trying to grow," she says.
Dead chickens, food shortages, higher prices
The escalation of power outages is also deeply worrying for South Africa's food security, driving up prices, and placing an even greater strain on stretched household budgets.
With modern farming practices ever more reliant on electricity for crop irrigation, processing, and storage, loadshedding is having a huge impact on agricultural output.
Gys Olivier, a farmer from Hertzogville in Free State province, in east-central South Africa, says he and other farmers in the area have been forced to throw away hundreds of thousands of dollars worth of seed potatoes due to disruptions to the 'cold chain' – (the process of keeping produce refrigerated throughout the supply chain.)
There is also less demand from growers due to water shortages, with pump stations reliant on electricity to operate.
"We have done everything we can to make sure there is food on the table for a very good price, but it's become so capital-intensive to farm," Olivier says.
Meanwhile livestock and poultry are dying before they even get to the slaughterhouse.
A gruesome video circulating on social media shows workers removing 50,000 dead broiler chickens from a farm in North West province, the birds suffocated when power outages caused ventilation systems to stop. The financial damage to the farmer was around ZAR1.6m ($93,300) according to local media reports.
A crime 'pandemic'
South Africa is notorious for high crime rates, and loadshedding is making it worse as home security systems fail when the power goes out, giving criminals a field day inside unsecured properties.
Policing also becomes harder, with officers unable to reach crime scenes fast enough due to congestion when traffic lights are off.
Tumelo Mogodiseng, General Secretary of the South African Policing Union (SAPU), describes the load-shedding as "a pandemic."
He says his members' lives are now more at risk, with officers unable to see potentially dangerous situations in the darkness, and police stations, many of which don't have backup power systems, at risk of attack from criminals during blackouts.
"Police are dying every day in this country. If this is happening in the daylight, what happens when there is no light for them to see at night?"
Mogodiseng also worries that crimes are going unreported, with citizens fearful of leaving their houses during outages and traveling in the darkness. "Communities won't travel to police stations to open cases because they are afraid," he told CNN.
Gareth Newham, who runs the Justice and Violence Prevention Programme at the Institute for Security Studies (ISS) in Pretoria, says that it's hard to get solid data on the impact outages are having on crime. While anecdotal evidence suggests criminals are exploiting outages, the recent escalation of loadshedding has coincided with the Christmas holidays, when crime rates typically spike.
His biggest concern is that continued loadshedding or a temporary grid collapse could lead to a repeat of the coordinated civil unrest, rioting, and looting in parts of South Africa's KwaZulu-Natal and Gauteng provinces 18 months ago.
"A complete breakdown in the grid could be the trigger for local level gangs getting more power, and we could see a similar kind of violence to that we saw in July 2021."
Eskom: The Roots of a Crisis
Under the ruling African National Congress (ANC), in charge since 1994, Eskom has become synonymous with corruption, crime, and mismanagement.
Last year a judge-led inquiry into graft under the former president, Jacob Zuma, found that there were grounds to prosecute several former Eskom executives.
The government has failed to build new power stations to keep up with increased demand, and warnings from energy experts on looming supply shortages across the past two decades have gone ignored.
A 2019 report by the South African Institution of Civil Engineering shows skilled engineers have been leaving the country in droves.
Despite spending billions of USD on two huge coal power stations, neither works properly.
Older plants are dilapidated due to a lack of maintenance, and organized crime steals vital coal supplies and cable from the rail lines going from mines to power stations.
Renewable energy companies say they are desperate to supply to the grid, but the government has been slow to cut red tape and streamline regulatory processes that would reduce the time frame for environmental authorisations, registration of new projects and grid connection approvals.
Legal challenges against the government and Eskom are stacking up. Several political parties and trade unions say they will take the government and state utility to court for not upholding their duty to provide electricity.
Adjusting to life in the dark
With no end in sight to the outages, South Africans are desperate for alternative energy sources, but even they are out of the reach of many citizens.
Thando Makhubu says he was shocked by the cost to power his ice cream business off-grid. "We were quoted R100,000 ($5,945) and that excluded the solar panels."
Karin McDonald, who runs a swimming school, similarly found the upfront costs of solar prohibitive. "We received quotes for solar for the business and house and were not looking at anything less than half a million rand ($29,500) which is a major life decision to make," she said.
There is also a long wait for solar. "I know a solar provider that had 40 requests just last week, all for big solar projects, " said Angus Williamson, a cattle farmer from KwaZulu-Natal province.
As they come to terms with their new reality, many South Africans are finding it hard to stay optimistic.
"The light at the end of the tunnel is a train heading in our direction," said Williamson.
Jose Tembe
BBC News, Maputo
Errors have been detected in Mozambique textbooks for the second year despite recent assurances by the education ministry that it would not happen again.
Some errors were reported in Grade Six books last year – and this year the irregularities have surfaced in textbooks for the fifth and eighth grades.
A book published by Plura Editora for the Portuguese subject for Grade Eight starts on page 16, with the preceding pages misplaced elsewhere in the book.
On the first page, the book is printed upside down and a student would have to turn it over to read after opening the cover. Some other pages are also upside down.
In addition, photos of two same Portuguese subject textbooks for fifth grade with completely different covers have been shared on social media.
The first has a cover photograph of a girl smiling and dressed in a brown and white pullover, while the second shows a girl in a blue blouse and holding a pencil.
The errors were noted as schools throughout the country re-opened this Wednesday, with pictures of the errors being shared on social media.
A spokesman for the education ministry, Feliciano Mahalambe, recently gave assurances that the books that were due for distribution this year had been prepared and reviewed by a fully qualified team to avoid past mistakes.
A Grade Six book was withdrawn from schools last year after the discovery of errors including the erroneously listing of Mozambique as being in the East African region rather than a country in the Southern African region and showed landlocked Zimbabwe as bordering the Red Sea.
AFP , Thursday 2 Feb 2023
Young people packing a stadium in DR Congo's capital Kinshasa erupted in joy on Thursday as Pope Francis entered in his popemobile, on the third day of his trip to the country.
The Argentine pontiff arrived at the Martyrs' stadium around 9:00 am local time (0800 GMT), offering greetings and blessings to the crowd roaring in the stands.
Young people had already begun to flock to the 80,000-seat stadium overnight, with many hoping for a papal message of peace for the Democratic Republic of Congo, a deeply observant country that has long been plagued by violence in its east.
About 60 percent of the central African nation of roughly 100 million people is under the age of 20, according to UN figures.
As well as conflict, young people face persistent unemployment in the DRC.
Sheila Mangumbu, 21, said she was hoping for a "message of peace" from Francis, especially for residents of the eastern city of Goma.
M23 rebels, allegedly backed by Rwanda, have captured swaths of territory in eastern DRC since late 2021 and come within kilometers of the commercial hub of Goma.
"The M23 is killing many of us in the east, I would like this to stop because it has been going on for too long," Mangumbu told AFP.
On the second day of his trip, the pope had hosted a mass at Kinshasa's airport that organizers said drew about a million people, some of whom had camped out all night to get a spot.
He then met victims of conflict in the DRC's mineral-rich east, some of whom had suffered appalling violence.
His face grave, Francis called for mercy from God.
"May he convert the hearts of those who carry out brutal atrocities, which bring shame upon all humanity," he said.
He said the conflict was being driven by greed and called on combatants to lay down their arms.
"Listen to the cry of their blood," the pope said, alluding to a verse from the Book of Genesis.
Scores of armed groups roam eastern DRC, many of them a legacy of two wars at the end of the 20th century that sucked in countries from around the region.
'Economic colonialism'
The DRC is replete with minerals, timber and fresh water, yet remains one of the poorest countries in the world where corruption is entrenched.
Shortly after his arrival from Rome on Tuesday, the pope — speaking before an audience of Congolese politicians and other dignitaries — said the DRC had been hamstrung by a long history of exploitation.
"Political exploitation gave way to an economic colonialism that was equally enslaving," he said.
"As a result, this country, massively plundered, has not benefited adequately from its immense resources."
Many Congolese warmly welcomed the pope's message, and some hoped it would bring change.
After addressing young people in Kinshasa's Martyrs' stadium, the pope will later meet Jesuit leaders and priests on the front line of the church's work in the DRC.
About 40 percent of the country's population is Catholic, according to official statistics, and the church retains huge influence despite secularism being enshrined in the constitution.
Francis will take his appeal for peace and reconciliation to South Sudan on Friday for a maiden three-day visit.
Born in 2011 after gaining independence from Sudan, the nation has been battered by a civil conflict that left around 380,000 dead.
The visit to the two countries was initially scheduled for 2022, but had to be postponed because of the pope's problems with his knee — an affliction that has made him dependent on a wheelchair.
It is his 40th foreign trip since he ascended to the papacy in 2013.
AP , Wednesday 1 Feb 2023
Chad will open an embassy in Tel Aviv, four years after the countries restored diplomatic relations, Israel's Prime Minister's Office said Wednesday.
Benjamin Netanyahu's office said the embassy would be inaugurated on Thursday as part of Chadian President Mahamat Deby's state visit to Israel.
Netanyahu visited the central African state in January 2019 as part of Israel's push to establish diplomatic ties with Muslim states.
The following year Israel signed normalization agreements with Morocco, Bahrain, Sudan and the United Arab Emirates as part of the US-brokered "Abraham Accords."
"These are relations we want to upgrade to new levels, to new heights, and your visit here to Israel and opening an embassy are an expression of that," Netanyahu said during a meeting with Deby.
Deby was declared head of state in 2021 after the military announced that his father had been killed by rebels after more than three decades in power.
He was greeted on the tarmac by Mossad intelligence agency chief David Barnea, the Prime Minister's Office said.
Deby's father and predecessor in office, Idriss Deby, visited Jerusalem in 2018. Chad had relations with Israel until 1972, when it terminated diplomatic ties under pressure from other Arab countries.
The desert country is one of the world's least developed states, according to the World Bank's Human Development Index, and its government has been accused of widespread human rights abuses and rigged elections.
Egypt's permanent delegation to the United Nations received on Thursday the rotating chairmanship of the UN African Group in New York for February 2023, following the end of the Senegalese presidency of the group for January 2023, a statement by the Egyptian foreign ministry said.
"It is my pleasure to assume the chairmanship of the African Group in New York for the month of February. The African Group is a vital forum through which our continent advances its interests and priorities at the UN system," Permanent Representative of Egypt to the UN in New York and the current chairperson of the group Osama Mahmoud Abdel-Khalek was quoted as saying by the African Union (AU) website.
The discussions of the African Group, which consists of the 54 AU member states at the UN, revolve around issues relevant to the continent such as health, migration, peace, and security among others, according to the group's page on the AU website.
"I intend to build on the stellar job done by my predecessors and to further push for African positions across all work streams of the UN," the chairperson said, according to the ministry's statement.
Abdel-Khalek said that Egypt's chairmanship of the group comes within the framework of its active role in promoting the African continent's presence and interaction in the various fields of work of the UN, and advancing the interests of the continent and its peoples, especially in priority issues, foremost of which are peacekeeping, peace-building, development, confronting climate change, and others.
Abdel-Khalek indicated that the African Group has a number of major commitments within the negotiating tracks at the UN, including the Sustainable Development Goals Summit, the Summit of the Future, the high-level meeting on Pandemic Prevention, Preparedness and Response, the ministry statement reported.
The member states in the UN General Assembly are divided into various geographical groupings through which elections are conducted into various UN bodies and agencies.
The African Group holds regular meetings to receive briefings from guests and UN officials and discuss UN resolutions and topics so a common African position can be reached, according to the AU website.
By Grigor Atanesian
Global Disinformation Team
A large social network that promotes anti-Western and pro-Kremlin ideas is helping Russia expand its influence at the expense of France in some of its former colonies in Africa.
Called Russosphère (Russian Sphere), typical posts accuse France of modern-day "colonialism", eulogise Vladimir Putin, and call the Ukrainian army "Nazis" and "Satanists", echoing the official Russian line.
They also heap praise on Russia's Wagner mercenaries – even sharing recruitment information should followers want to join up.
Experts say that such misinformation drives mistrust between African nations and the West, and contributes to a lack of support for Ukraine on the continent.
Working with Logically, the tech organisation who traced the network, the BBC's Global Disinformation Team tracked down the surprising figure behind it: a 65-year-old Belgian politician who calls himself a Stalinist.
Defending Russia and thanking Wagner
Russosphère describes itself as "a network in defence of Russia". Made up of several social media groups on different platforms, it was created in 2021 but fully launched in February 2022 – just days before the Russian invasion of Ukraine. The network swiftly gained over 80,000 followers.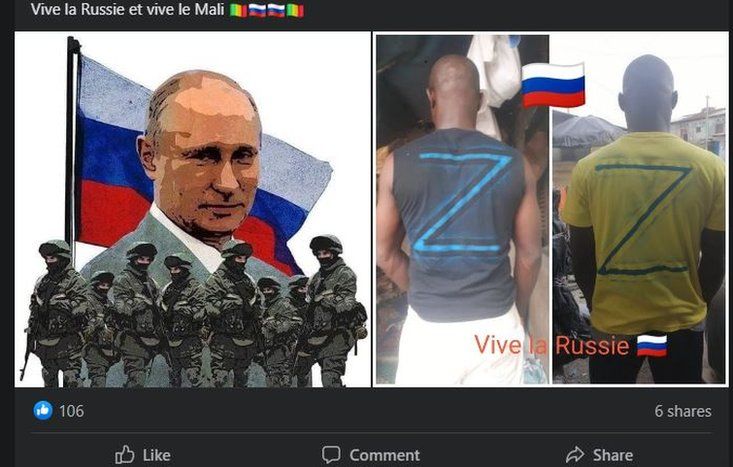 After the invasion, Russian state media was restricted or banned from all mainstream social platforms. Russosphère was not, and quickly became active on Facebook, YouTube and Twitter in addition to Telegram and VK – Russia's homegrown version of Facebook.
The discovery comes at a time of a swift deterioration in relationships between France and several African nations that analysts partly attribute to the Kremlin's influence and a growing pro-Russian sentiment fuelled by propaganda.
Kyle Walter is head of US investigations at Logically. Using data from their internal artificial intelligence-powered platform combined with open source intelligence, Logically tracked the network back to a man called Luc Michel.
In the past, Mr Michel has worked to legitimise votes in Russian-occupied Ukrainian territories, and been linked to "Merci [thank you] Wagner", a group supporting the work of the Russian mercenaries.
We contacted Mr Michel and he agreed to discuss Russosphère. He told us he created it, but said it received no financial support from Russia, saying it is funded by "private money".
He also insisted that he had no connections with Wagner and its head Yevgeny Prigozhin. "I manage the cyberwar, the media war… and Prigozhin conducts military activities," he said.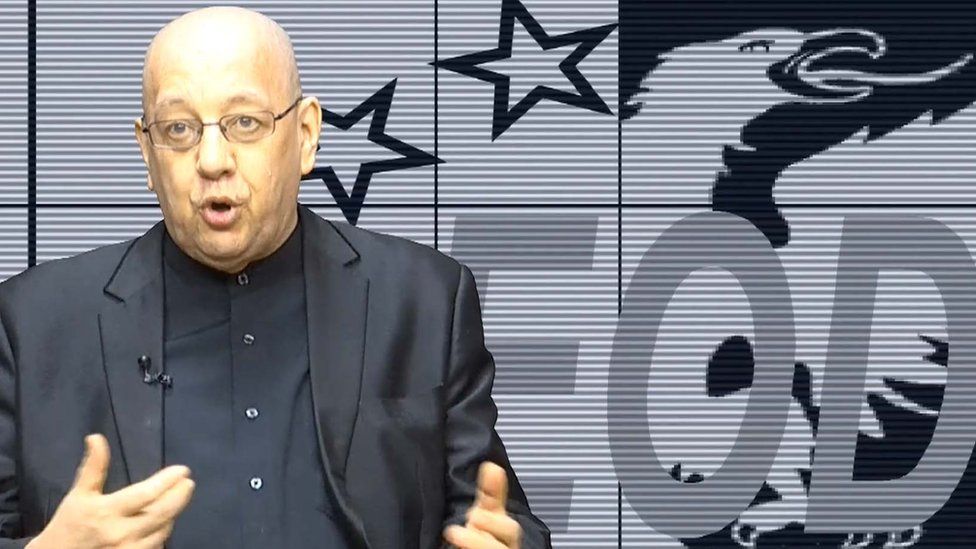 According to Mr Walter, a co-author of Logically's report, this campaign is the first time Mr Michel's efforts have had real-world impact. "Russosphère is the first time Luc Michel and the general influence operations he runs have had significant success," he says.
"Even if the groups have been helped by bots in the beginning, they are now an authentic organic influence operation, with a large portion of real followers from across Africa."
Admirer of Gaddafi and Putin
Mr Michel's early history may seem unusual for a self-proclaimed friend of Africa.
Born in 1958, he was politically active from a young age, first in the neo-fascist groups of his native Belgium, and later as a follower of Jean Thiriart, a former Nazi collaborator who envisioned a "Euro-Soviet empire from Vladivostok to Dublin", united against America.
His career took him to Libya in support of the country's leader at the time, Muammar Gaddafi. He also went to Burundi as an advisor to then-President Pierre Nkurunziza.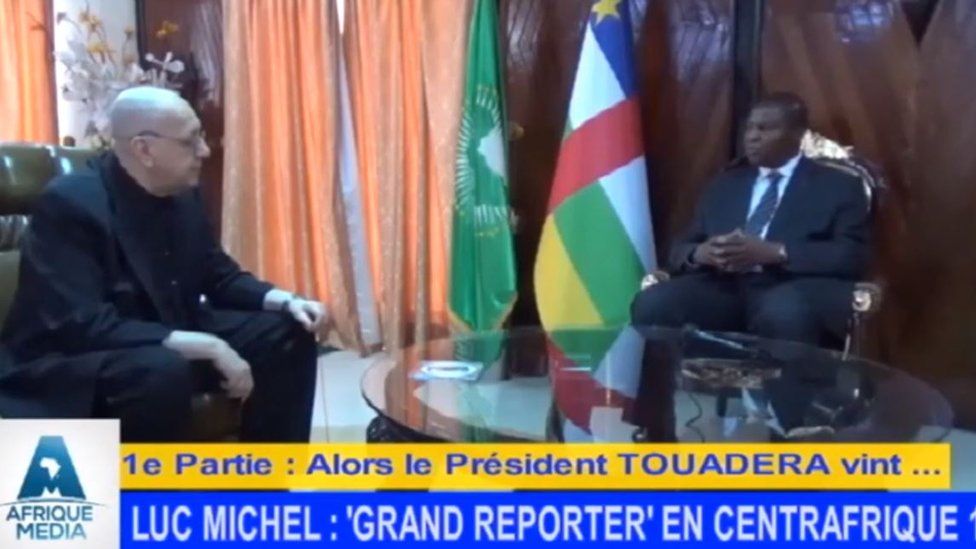 Throughout, he maintained a Russian connection, working with "Nashi", the Kremlin's youth movement, and creating a self-styled "election-monitoring group" that declared Moscow's 2014 illegal referendums in Crimea, Donetsk and Luhansk "free and fair".
"I am a Stalinist," he told the BBC. "I have defended Russia since the 1980s. I think that Russia is the only force left in Europe that is anti-American. I am nostalgic of the Soviet Union. I want a free world without America."
From social media to the streets
It is difficult to assess the impact of specific disinformation campaigns, but in Africa the pro-Russian message is being heard – amplified, say analysts, by local influencers cultivated by Russia.
"The success of people like Luc Michel is because of his opposition to France. It taps into real grievances on the ground," says Kevin Limonier, an associate professor at the University of Paris-8 studying Moscow's information operations in Africa.
"Russian misinformation was a factor helping to drive the French forces out of Sahel countries, especially Burkina Faso," according to Ulf Laessing, from the Konrad Adenauer Foundation, a centre-right German think tank.
From 2013, some 5,000 French troops had been deployed to fight militant jihadist groups in Mali as well as in Burkina Faso, Chad, Niger and Mauritania. But last year, they pulled out of Mali and are preparing to leave Burkina Faso.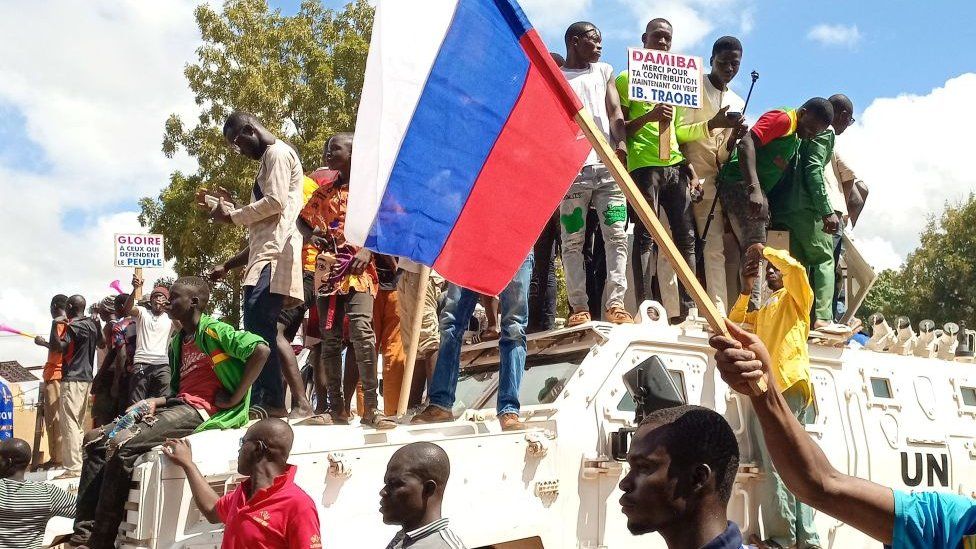 They have been under pressure from the military governments in the two countries but Beverly Ochieng from BBC Monitoring agrees that popular sentiment may have had something to do with it.
"Russian flags were waved at protests in Mali, Burkina Faso, Niger and Chad, and that is in part due to pro-Russian info-ops," she says.
In Burkina Faso, protesters attacked the French embassy and were heard demanding closer ties between Ouagadougou and Moscow.
This chimes directly with Mr Michel's aims. "I think that Russia must replace the French in all of Africa," he told the BBC.
"Estimating the impact of information operations is almost impossible," says Mr Limonier, expert in the Kremlin's influence campaigns.
But one thing is clear: such operations worry the West.
In Paris, according to Mr Limonier, "the diplomats and the military, they read it, they see it and they say: 'Oh my gosh'."
AP , Tuesday 31 Jan 2023
Pope Francis is opening a six-day visit to Congo and South Sudan on Tuesday, aiming to bring a message of peace to two countries riven by poverty, conflict and what Francis has called a lingering "colonialist mentality" that still considers Africa ripe for exploitation.
Aid groups are hoping Francis' trip will shine a spotlight on two of the world's forgotten conflicts and rekindle international attention on some of Africa's worst humanitarian crises, amid donor fatigue and new aid priorities in Ukraine.
But Francis' trip will also bring him face-to-face with the future of the Catholic Church: Africa is one of the only places in the world where the Catholic flock is growing, in terms of practicing faithful as well as fresh vocations to the priesthood and religious life.
That makes his trip, his fifth to the African continent in his 10-year pontificate, all the more important as Francis seeks to make his mark on reshaping the church as a "field hospital for wounded souls" where all are welcome and poor people have a special pride of place.
"Yes, Africa is in turmoil and is also suffering from the invasion of exploiters," Francis told The Associated Press in an interview last week. But he said the church can also learn from the continent and its people.
"We need to listen to their culture: dialogue, learn, talk, promote," Francis said, suggesting that his message would differ from the scolding tone St. John Paul II used in 1980 and 1985 when he reminded Congolese priests and bishops of the need to stick to their celibacy vows.
Congo, Francis' first stop, stands out as the African country with most Catholics hands down: Half of its 105 million people are Catholic, the country counts more than 6,000 priests, 10,000 nuns and more than 4,000 seminarians _ 3.6% of the global total of young men studying for the priesthood.
Congolese faithful were flocking to Kinshasa for Francis' main event, a Mass on Wednesday at Ndolo airport that is expected to draw as many as 2 million people in one of the biggest gatherings of its kind in Congo and one of Francis' biggest Masses ever.
"There are people who chartered planes to come here because there were so many of them!" marveled Inniance Mukania, who travelled to Kinshasa from the Kolwezi diocese in southern Congo.
On the eve of the pope's visit, President Felix Tshisekedi met with foreign diplomats in Kinshasa and told them the visit was a sign of solidarity "particularly with the battered populations of the eastern part of the country, prey to acts of violence and intolerance that you are witnessing."
Jesus-Noel Sheke, technical coordinator of the organizing committee for the papal visit, said nearly everything was ready at Ndolo, where organizers have arranged for 22 giant screens to carry the service live.
"There are only a few decorations left," he told journalists of the preparations over the weekend. "They will be done the day before."
The trip was originally scheduled for July, but was postponed because of Francis' knee problems. It was also supposed to have included a stop in Goma, in eastern Congo, but the surrounding North Kivu region has been plagued by intense fighting between government troops and the M23 rebel group, as well as attacks by militants linked to the Islamic State group.
The fighting has displaced some 5.7 million people, a fifth of them last year alone, according to the World Food Program.
Instead, Francis will meet with a delegation of people from the east who will travel to Kinshasa for a private encounter at the Vatican embassy. The plan calls for them to participate in a ceremony jointly committing to forgive their assailants.
While the people of Goma were saddened that Francis won't be visiting the east, "we hope with the visit that the pope can bring a message of peace to the people of Congo who need it," said Providence Bireke, a Goma-based manager with AVSI, an Italian aid group active in the area.
The second leg of Francis' trip will bring him to South Sudan, the world's youngest country where continued fighting has hampered implementation of a 2018 peace deal to end a civil war. Francis first voiced his hope of visiting the majority Christian country in 2017, but security concerns prevented a visit and only contributed to worsening a humanitarian crisis that has displaced more than 2 million people.
The South Sudan stop also marks a novelty in the history of papal travel, in that Francis will be joined on the ground by the Archbishop of Canterbury, Justin Welby, and the moderator of the Church of Scotland, the Rt. Rev. Iain Greenshields.
The aim of the three-way visit is to show a united Christian commitment to helping South Sudan make progress on the implementation of the 2018 accord. Francis presided over a similar joint initiative in 2019 in the Vatican when he famously got down on hands and knees and kissed the feet of South Sudan's rival leaders, begging them to make peace.
Since then, progress on implementing the accord _ in particular creating a unified army comprised of government forces and opposition fighters _ has been "painfully slow," said Paolo Impagliazzo of the Sant'Egidio Community, which has spearheaded an initiative to bring the groups that didn't sign onto the 2018 accord into the process.
"The visit will bring hope to the people," Impagliazzo said in an interview in Rome. "And I believe the visit will strengthen the churches _ the Anglican Church, the Catholic Church, the local church _ that are playing a critical role in bringing about peace and dialogue in South Sudan."
One area of particular concern remains the widespread availability of firearms among the civilian population, which has led to continued fighting in areas as cattle herders seek more land or faction leaders seek to gain more territory, he said.
The Small Arms Survey estimated in 2017 that there were some 1.2 million firearms in the possession of South Sudanese civilians, or 1 for every 10 people. The estimate was believed low and pales in comparison to the number of per capita firearms in Europe or the U.S., but remains an outstanding issue that "will not go ahead until we have the possibility to have a unified army," Impagliazzo said.
Francis has long denounced the weapons industry, calling traffickers "merchants of death." In the AP interview, he repeated his condemnation.
"The world is obsessed with having weapons," Francis said. "Instead of making the effort to help us live, we make the effort to help us kill."
AFP , AP , Wednesday 1 Feb 2023
An estimated 1 million joyous Congolese poured into the capital's main airport Wednesday for Pope Francis' first big Mass in Africa, on a day dedicated to his call for peace and forgiveness in a country wracked by decades of violence.
Many of the Congolese faithful spent the night on the vast airfields of Kinshasa's Ndolo airport and passed the hours before Francis' arrival singing, dancing and getting jazzed up for the first papal visit to the overwhelmingly Christian country since St. John Paul II's last trip in 1985.
They cheered wildly when Francis began a languid loop around the airfields in his open-sided popemobile, some of them running alongside or waving flags. Many of the women wore dresses and skirts made of pagne, a wax print fabric featuring images of Francis or other religious symbols.
"Today I understand the enthusiasm of my grandmother when Pope John Paul II came," said Julie Mbuyi, a 45-year-old mother of two who was wearing a Francis-themed outfit. "She was so excited to see him and the night before she couldn't close her eyes!"
The morning Mass was Francis' first big event in Congo after he arrived on Tuesday and, in his opening speech to government authorities, condemned the centuries-long plundering of Africa's mineral and natural wealth by foreign powers.
Later Tuesday, Francis was to meet with victims of the fighting in Congo's east, where rebel groups have intensified attacks over the past year as they seek to expand their territory.
Francis had originally planned to visit the North Kivu provincial capital, Goma, but had to cancel the stop due to the fighting that has forced some 5.7 million people to flee their homes, exacerbating a humanitarian crisis in Congo where already some 26.4 million people were facing hunger, according to the World Food Program.
"When we heard that Pope Francis was no longer coming to our province of North Kivu, my husband and I decided to come all the way to Kinshasa to see and hear him," said Jeanne Kahota as she waited for Francis' Mass to begin. She said she was old enough to remember John Paul's visit, but wasn't able to follow it closely.
"That's why we said to ourselves that this kind of appointment doesn't happen every day, it's exceptional and we didn't want to miss it again."
Fighting in eastern Congo, which has more than 120 armed groups, has simmered for years but spiked in late 2021 with the resurgence of the M23 group, which had been largely dormant for nearly a decade. The rebels have captured swaths of land and are accused by the United Nations and rights groups of committing atrocities against civilians.
Francis on Tuesday condemned the fighting and was to repeat his call for peace during his meeting with victims of the conflict. The appointment was to include a joint call for the victims to pardon their assailants, according to Vatican organizers.
The Vatican estimated that 1 million people were on hand for Francis' Mass, citing local organizers. The airport fields had a capacity of 1.5 million people and were not full by the time Francis' Mass began.
Among the faithful was Clement L'onde, who travelled from Kisantu, a town in the province of Central Kongo, more than 150 kilometers from Kinshasa. He planned to participate in all of Francis' events.
"To my children and to the children who stayed in my city, I will bring them the message of the Holy Father, the message of peace and reconciliation," he said.
Angolan President João Lourenço on Friday inaugurated the country's first satellite control centre. Its main task is to monitor the activity of the satellite "ANGOSAT 2".
The southern African country had in October launched the main satellite with the help of Russia
The inauguration took place at Funda area within Luanda, the capital city of Angola and fully equipped with technical and technological means.
"With the launch of this satellite and its commissioning, Angola will win in all services, so we will improve our telecommunications and our social communication and will also benefit from this important project," said President João.
"Therefore, further investments to ensure that our telecommunications contribute to the development of the country and the services of our economy, not just of Angolan society, will continue to be made, and it has been said here that in terms of fibre optics and therefore cable transmission and investment that we are making today to connect Angola to the neighbouring country, specifically the DRC," said President João.
According to what was revealed, the Satellite Mission and Control Center is an intelligent infrastructure with multiple engineering advantages, capable of guaranteeing the tracking, monitoring and operation of satellites, in this case the ANGOSAT-2.
In December 2017, Angola launched its trial satellite Angosat-1 alongside the Russian rocket, but Moscow announced it had lost control of it as soon as it entered orbit.