By Jerry Omondi
The world ought to shift its focus to concentrate more on primary healthcare in efforts to achieve universal healthcare, according to the World Health Organization (WHO) Director-General Dr. Tedros Adhanom.
Dr. Tedros made the remarks on Monday at the European Investment Bank (EIB) – WHO Health Event.
"The best way to do this is to invest in and reorient health systems towards primary health care as the foundation of universal health coverage," he said.
"More than 90 percent of essential health services can be delivered through primary health care, including many services to promote health, prevent disease, and avoid or delay the need for more costly secondary and tertiary care."
Dr. Tedros pointed out that the COVID-19 pandemic had provided a demonstration that when health is at risk, everything is at risk.
He noted that the crisis had disrupted societies, economies, businesses, trade, politics, education and many other facets of life.
The WHO chief also used the opportunity to convey WHO's gratitude to the EIB for its commitment of 500 million Euros to support primary health care in sub-Saharan countries.
"This investment will provide much-needed support to national governments to strengthen primary health care, and improve capacities to prepare for, prevent and respond to health emergencies," he said.
By Jerry Omondi
South Sudan's health authorities, with support from the World Health Organization (WHO), said they have sent three samples out of five unconfirmed cases of Ebola to South Africa for testing.
The dispatch comes as Uganda continues to battle an outbreak of the deadly disease, which was first reported on September 20 in the Mubende district. So far 38 cases have been confirmed in the East African country with eight deaths officially reported.
Alex Freeman, the Head of the WHO Infection, Prevention and Control (IPC), told journalists in Juba that South Sudan had raised the levels of preparedness to detect, isolate and manage suspected Ebola viral disease (EVD) cases.
Mabior Kiir, the Manager for the Public Health Emergency Operation Center, said the five suspected cases were detected in the states of Eastern Equatoria, Western Equatoria, and Central Equatoria.
Reuters News
CAPE TOWN – African countries will use the COP27 climate talks in Egypt next month to advocate for a common energy position that recognises fossil fuels are necessary in the short term to expand economies and electricity access, the continent's top energy official said on Tuesday.
The African position, criticised by environmental groups, could overshadow global climate talks in Sharm El-Sheikh seeking to build on the previous Glasgow summit and make good on financing targets by rich nations to poorer countries that have fallen far short of the promised $100 billion a year by 2020.
"We recognize that some countries may have to use fossil fuels for now, but it's not one solution fits all," said Amani Abou-Zeid, the African Union (AU) Commissioner for Infrastructure and Energy.
"It is not time to exclude, but it is the time to tailor solutions for a context, for a country and we cannot treat a city like a village because we have to tailor our sources of energy," she told Reuters on the sidelines of an oil and gas conference.
An AU technical study attended by 45 African countries on 16 June seen by Reuters outlined that oil and coal will play a "crucial role" in expanding modern energy access over the short to medium term.
In tandem with renewable sources, Africa also sees key roles for natural gas and nuclear energy while the continent focuses on new technology and decarbonisation measures to reduce harmful emissions from its fossil fuels industry.
"Our ambition is to have fast-growing economies, competitive and industrialised," Abou-Zeid said.
Seen as a global renewable hub given its vast solar, wind and hydrogen potential, Africa also has around 600 million people in its sub-Sahara region living without electricity and almost 1 billion citizens without access to clean energy for cooking.
"As far as we are concerned, the first obligation we have as governments is to our people and to bring them out of energy poverty and poverty in general and to do this you need energy. There is no way you can develop any economy, any society without energy," said Omar Farouk Ibrahim, secretary general of the African Petroleum Producers' Organisation.
"We are talking about coal, we are talking oil and we are talking about gas. At this time we are not discriminating," he told Reuters.
BBC
Egypt's National Olympic Committee (NOC) says "it is time for Africa" as it tries to become the first country on the continent to host the Olympic Games.
On 24 September, Egypt President Abdel Fattah al-Sisi gave governmental backing to a possible bid while International Olympic Committee (IOC) president Thomas Bach was visiting the country.
"We're preparing the letter to [the] IOC, with our intention to present a bid for the 2036 Olympic Games," NOC secretary general Sharif El Erian told BBC Sport Africa.
"It's time for Africa. It's the only continent that did not host the Summer Olympic Games, and I think Egypt is one of the few countries in Africa where the infrastructure is ready from today to host such a huge event."
A statement issued by the Egyptian cabinet said that IOC president Bach had "asserted that Egypt's sporting infrastructure gives it an opportunity to host the 2036 Olympic Games".
A guest of the country's sports ministry, Bach had been visiting the 92-acre complex that will be named the Olympic City, to be built in the so-called New Administrative Capital currently under construction some 40 kilometres east of the existing capital Cairo.
Work on the Olympic Stadium, which started in 2019 and which will be Africa's second biggest sports stadium, is at an advanced stage, with El Erian saying that many facilities are already ready to go.
"The only thing that needs to be built is the Olympic Village, but winning the bid comes more than seven years before the actual Games," explained El Erian.
"So if we do win the bid, we have enough time to build a state-of-the-art Olympic Village."
Egypt, which has hosted several continental and global events such as the Africa Cup of Nations and World Handball Championship in recent years, had been considering a bid for the 2032 Games.
Yet Brisbane was announced as host last year before any Egyptian intention had been made, with organisers less keen after the coronavirus pandemic delayed a proposed visit by Bach to the north African nation originally set for 2020.
"We know that we have to act now," El Erian said, even though the formal bidding process is still some years away from beginning.
"We know we have competition from five to six other countries who have put their intention that they would also love to host, but we are confident that our bid will be one of the strongest."
Other countries with cities reported to be interested in hosting the 2036 Games are Germany, India, Mexico, Qatar, Turkey and Russia.
"I have to calm people down"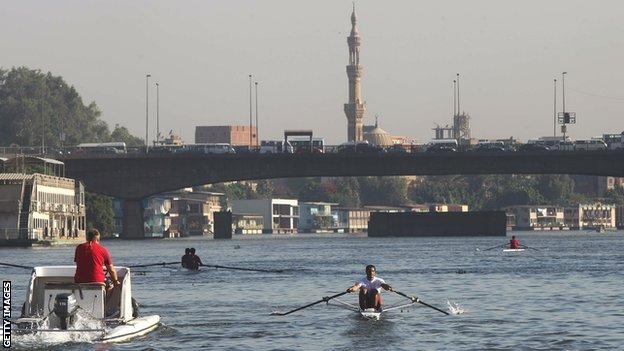 Since governmental backing was given to the 2036 bid, the enthusiasm among Egyptians for hosting the Games has been so great that some believe the Games have already been awarded.
In reality, Egypt's NOC is working on the assumption that no decision will come before the next Games, in Paris, in 2024 but will be made before the end of the decade.
"The population are so happy – the media, everyone is talking about it," says El Erian.
"I'm trying to calm the people down, saying we did not win the bid yet, but some people think we already won it and they are celebrating the fact Egypt will host it.
"Nothing can be 100% – you will find some opposition, of course – but let's say 99% of the population will be backing it. We love sports and the Olympics is the biggest event in the world."
The decision will ultimately be only the second awarded under the IOC's revised process where the Future Host Committee engages in targeted dialogue with selected countries in an aim to reduce unnecessary expenditure on bidding.
Budgetary boost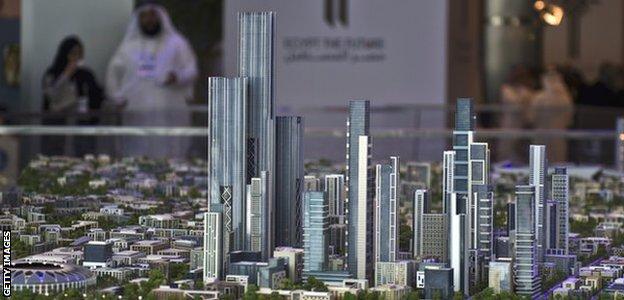 Should Egypt get to host the Games, which El Erian has been working on for many years, he believes it will restore the country's fortunes after a spell when its reputation was clouded by revolutions, political turmoil and civil instability.
In contrast to the cost of staging many Olympics, Egyptian authorities believe the event could propel the economy and tourist industry in Egypt given the existing facilities and expected number of people going to watch any Games.
"It will be the best thing ever for Egypt," says El Erian. "It will boost tourism, for sure, and will give a positive look and idea of Egypt.
"It will boost the economy too, especially since we have the infrastructure in place. We are not going to spend billions getting ready for this Olympics – no, Egypt is ready."
Egyptian security has long been a question mark, particularly since President Hosni Mubarak was toppled by the Arab Spring in 2011, before a coup overthrew the Muslim Brotherhood's Mohammed Morsi, the country's first freely-elected president, two years later.
In 2014, the Islamic State group intensified its insurgency in the Sinai Peninsula while an explosion targeting a tourist bus in Cairo in 2019 injured at least 16 people.
Incidents have calmed down in recent years, prompting El Erian to declare Egypt as "extremely stable" at present.
"Everything has been back to normal for many years now. Safety-wise, Egypt is an extremely safe country. Tourism, infrastructure, everything is in place – so why not go for it?"
The Egyptians have bid for three previous Olympics (1916, 1936 and 2008), with South Africa – in 2004 – the only other African country to have also tried.
The next three summer Games are scheduled to be in Paris in 2024, Los Angeles in 2028 and Brisbane in 2032.
A Tanzanian doctor working in Uganda who contracted Ebola has died, the first health worker killed by the disease in the latest outbreak in the country, Uganda's health minister said on Saturday.
"I regret to announce that we have lost our first doctor, Dr. Mohammed Ali, a Tanzanian national, 37-year-old Male," the health minister, Jane Ruth Aceng, tweeted.
She said Ali had tested positive for Ebola on Sept. 26 and died while receiving treatment at a hospital in Fort Portal, a town about 300 kilometres west of the capital Kampala.Advertisement · Scroll to continue
Authorities in the east African nation announced the outbreak of the deadly hemorrhagic fever on Sept. 20 triggering fears of a major health crisis in the country of 45 million people.
There is no vaccine for the Sudan strain of the disease behind the latest Uganda infections.
The health ministry said on Friday, before Ali's death, that the disease had so far infected 35 people and killed seven.
Ali was among six health workers who include doctors, an anesthesiologist and one medical student who have contracted the disease.
Ebola mainly spreads through contact with the bodily fluids of an infected person. The viral disease has symptoms including intense weakness, muscle pain, headaches and a sore throat, vomiting, diarrhoea and rashes among others.
Reuters News
India beat South Africa by 16 runs in a high-scoring Twenty20 international in Guwahati on Sunday to take an unassailable 2-0 lead in the three-match series as David Miller and Quinton de Kock's unbeaten 174-run stand was in vain.
Chasing an imposing 237, the visitors fell short as India's imperious batting performance helped them clinch victory as well as their first home T20 series win over South Africa.
Miller struck a fine 106 off 47 balls and his unbeaten stand for the fourth wicket with opener De Kock threatened to take the game away from India but the task ultimately proved too much.
South Africa were reeling at 5-2 at the end of the second over after Temba Bavuma and Rilee Rossouw fell for ducks to Arshdeep Singh. Aiden Markram then hit 33 from 19 in a valiant effort but De Kock struggled to a 48-ball 69.
Play was stopped in the third over of the chase after one of the four floodlight towers in the stadium went out. It was the second interruption of the match after a snake slithered onto the field in a bizarre turn of events early in India's innings.
India were put in to bat and smashed over 150 runs in boundaries to reach a commanding 237-3, thanks to Suryakumar Yadav's blazing 22-ball 61 after opener KL Rahul had got off the blocks in a flash to make 57 from 28.
Keshav Maharaj provided the visitors with a breakthrough by ending the 96-run opening stand, dismissing skipper Rohit Sharma (43) in the 10th over before trapping Rahul leg before wicket in the 12th to finish with an excellent 2-23.
Yadav joined Virat Kohli on the crease with the momentum seemingly shifting towards South Africa but did not take long to settle in, continuing his sparkling form to bring up a half century in only 18 balls.
Kohli finished unbeaten on a 28-ball 49 and Dinesh Karthik smacked 17 in his seven-ball cameo as India reached their fourth-highest total in T20s.
The final match of the series will be played in Indore on Tuesday.
Egypt's net foreign assets (NFAs) fell by 18.06 billion Egyptian pounds ($925 million) in August, resuming a near year-long decline that had paused the month before, central bank data showed.
The central bank has been relying on NFAs, which represent banking system assets owed by non-residents minus liabilities, to help support the currency. They include foreign assets held by the central bank.
NFAs fell to a negative 385.9 billion pounds at the end of August from a negative 367.8 billion pounds a month earlier. In July they rose by 2.27 billion pounds after nine months of decline.Advertisement · Scroll to continue
In September 2021, before the decline began, NFAs stood at a positive 248 billion pounds. Russia's invasion of Ukraine in February sparked further investor unease, unleashing an even bigger flood of outflows.
Changes in the amount of NFAs represent net transactions of the banking system with the foreign sector, including those of the central bank, according to the bank.
($1 = 19.4900 Egyptian pounds)
South Africa's rand firmed in early trade on Monday, ahead of a local purchasing managers' index (PMI) survey and new vehicle sales data that could give some clues on the health of the economy.
At 0639 GMT, the rand traded at 18.0375 against the dollar, 0.21% stronger than its previous close.
The dollar index , which measures the currency against six rivals, was last down 0.17% at 112.05. 
The Absa PMI survey on South African factory activity and data on September vehicle sales (ZAVEHY=ECI) by the auto association are expected later in the day.
The government's benchmark 2030 bond rose in early deals, with the yield down 2.5 basis points to 10.865%.
JOHANNESBURG, Oct 1 (Reuters) – Guinea have been stripped of the right to host the 2025 Africa Cup of Nations finals and the bidding for the tournament is set to be reopened on Saturday, the Confederation of African football announced early on Saturday.
It follows a meeting on Friday in Conakry between Guinea's interim president, Colonel Mamady Doumbouya, and the president of African football's governing body, Patrice Motsepe, to discuss the withdrawal after the west African country, among the poorest of the continent, said it was not ready to host the 24-nation tournament.
"I visited Guinea out of respect to the people of Guinea to discuss CAF's willingness to advise and work together with the football stakeholders to construct and build football infrastructure and facilities in this country, in the light of the decision by CAF not to proceed with the AFCON 2025 in Guinea," Motsepe said in a statement.
Although just announced, the decision had been made as early as June, sources told Reuters.
The CAF executive committee will be meeting in Algiers on Saturday and will take a decision to reopen the bidding process for the 2025 tournament, the CAF statement said.
In 2014, Guinea originally were awarded the hosting rights to the 2023 finals, along with Cameroon (2019) and Ivory Coast (2021).
But Cameroon were stripped of the right to host the 2019 tournament, as they were not ready, with Egypt filling in. Cameroon were then awarded the 2021 tournament, which eventually took place earlier this year after a one-year postponement because of the COVID-19 pandemic.
The Ivory Coast were due to host the next tournament in mid-2023 but that has been moved to early 2024 after concerns over the weather at that time of the year in the region.
The expansion of the Cup of Nations finals to 24 teams in 2019 meant Guinea's sparse infrastructure was always going to be stretched and the decision is no surprise.
The country suffered a coup one year ago when special forces commander Doumbouya ousted President Alpha Conde. A year earlier, Conde had changed the constitution to circumvent limits that would have prevented him from standing for a third term, triggering widespread rioting.
Doumbouya became interim president and promised a transition to democratic elections within three years.
The 15-member Economic Community of West African States rejected the timeline and imposed sanctions on junta members and their relatives, including freezing their bank accounts.
In July, the regional bloc gave Guinea until Oct. 22 to establish a "reasonable" timetable, or face additional sanctions.
By Jerry Omondi
Kenya's Health Ministry says it has heightened screening along its western border points following the Ebola outbreak in neighbouring Uganda.
Ag Director of Acting Director-General for Health, Dr. Patrick Amoth, while speaking to journalists urged Kenyans to minimize cross-border movements in order to minimize the risk of spreading the deadly disease.
"We appeal to members of the public to minimize their movements in and out of the country through entry points along our Western border unless it is extremely necessary. Those crossing at any of our border points should exercise maximum care as advised and guided by our health personnel at the entry points," state broadcaster KBC quotes Dr. Amoth.
Dr. Amoth's remarks came as tests on a suspected case of Ebola in the western county of Kakamega returned negative results. The patient, a 32-year-old man who had recently traveled to Uganda, remains in isolation in accordance with health guidelines.
"We would like to appeal to members of the public to continue being vigilant and also stay safe by strictly observing hygiene measures that would protect them against this deadly disease," Dr. Amoth added.
Uganda declared its ongoing Ebola outbreak on September 20 in the Mubende district.
So far 38 cases have been confirmed in Uganda with eight deaths officially reported.