The UN health agency World Health Organization and the International Labour Organization (ILO) submitted on Wednesday that an estimated 12 billion workdays are lost yearly due to depression and anxiety, costing the global economy nearly $1 trillion, more action is needed to tackle mental health issues at work.
The UN agencies also launched two publications that aim to prevent negative work situations and cultures while also offering mental health protection and support for employees.
"It's time to focus on the detrimental effect work can have on our mental health," said Tedros Adhanom Ghebreyesus, Director-General at WHO, which has issued global guidelines on the issue.
"The well-being of the individual is reason enough to act, but poor mental health can also have a debilitating impact on a person's performance and productivity."
The WHO guidelines contain actions to tackle risks to mental health at work such as heavy workloads, negative behaviors, and other factors that can create distress.
For the first time, the UN health agency recommends manager training, to build their capacity to prevent stressful work environments and respond to workers' needs.
A workplace taboo
WHO's World Mental Health Report, published in June, revealed that of one billion people estimated to be living with a mental disorder in 2019, 15 percent of working-age adults experienced a mental disorder.
The workplace amplifies wider societal issues that negatively affect mental health, including discrimination and inequality, the agency said.
Bullying and psychological violence, also known as "mobbing," is a key complaint of workplace harassment that has a negative impact on mental health. However, discussing or disclosing mental health remains taboo in work settings globally.
The guidelines also recommend better ways to accommodate the needs of workers with mental health conditions and propose interventions that support their return to work.
Increasing opportunities
They also outline measures to ease entry into the jobs market, for those workers with severe mental health conditions.
Importantly, the guidelines call for interventions for the protection of health, humanitarian, and emergency workers.
A separate policy brief with ILO explains the WHO guidelines in terms of practical strategies for governments, employers and workers, and their organizations, in both the public and private sectors.
The objective is to support the prevention of mental health risks, protect and promote mental health at work, and support those with mental health conditions, so they can participate and thrive at work.
"As people spend a large proportion of their lives in work – a safe and healthy working environment is critical," said, Guy Ryder, the ILO Director-General.
"We need to invest to build a culture of prevention around mental health at work, reshape the work environment to stop stigma and social exclusion, and ensure employees with mental health conditions feel protected and supported."
Lack of national programs
However, only 35 percent of countries reported having national programs for work-related mental health promotion and prevention.
The coronavirus pandemic triggered a 25 percent increase in general anxiety and depression worldwide, according to WHO research published in March.
The crisis exposed how unprepared governments were for its impact on mental health, as well as a chronic global shortage of mental health resources.
In 2020, governments worldwide spent an average of just two percent of health budgets on mental health, with lower-middle income countries allocating less than one percent.
(With input from UN-News)
GENEVA — Cholera is surging around the globe, the World Health Organization warns.
Flareups of the deadly disease have been reported in 26 countries in the first nine months of this year. In comparison, fewer than 20 countries reported cholera outbreaks per year between 2017 and 2021. In addition to greater frequency, the WHO reports the outbreaks themselves are larger and more deadly.
While poverty and conflict are major triggers of cholera, climate change is a growing threat.
Philippe Barboza, WHO team lead for Cholera and Epidemic Diarrheal Diseases, said climate change presents an additional layer of complexity and creates the conditions for cholera outbreaks to explode.
"This is what we have seen in southern Africa with the succession of cyclones that affected the eastern part of the African Coast," Barboza said. "The drought in East Africa is driving population movements, reducing access to water, which is already needed. So, of course, it is a key factor, which is fueling the outbreak. And the same in Sahel and other places."
Fifteen of the 26 cholera-infected countries are in Africa, according to the WHO.
Barboza said massive climate-induced floods in Southeast Asia also have resulted in large outbreaks of cholera in Pakistan and Bangladesh. Many countries that have made significant progress in controlling cholera are now back to square one, he added.
Cholera is an acute diarrheal disease caused by contaminated food or water. It can kill within hours if left untreated. Cholera outbreaks can be prevented by ensuring access to clean water, basic sanitation, and hygiene, as well as stepping up surveillance and access to health care, Barboza said.
"This is what we need countries to do, but that is easier said than done. Although many of the cholera-affected countries are actively engaged in these efforts, they are facing multiple crises, including conflict and poverty, and this is why international action is so important," he said.
Cholera is a preventable and treatable disease, Barboza said, so with the right foresight and action, the current global crisis can be reversed.
BBC NEWS
Uganda's President Yoweri Museveni has said that there is no need to impose restrictions in Ebola hotspots in the central region because the viral disease is not airborne.
Ebola is spread through contact with an infected person or infected surfaces and human waste.
The association of medical workers in the country had previously called for the affected region to be put under quarantine to stop further spread of the haemorrhagic fever.
Mr Museveni said his government had the capacity to control the epidemic due to previous experience with similar outbreaks. This is the fourth time Ebola has broken out in Uganda.
He said that health experts who had previously dealt with Ebola outbreaks had been deployed to the affected region.
It is currently taking 24 hours for samples to be tested and laboratory results to be released.
The president said the government would set up a laboratory at Mubende district headquarters, the epicentre of the outbreak, to quicken the sample processing.
Six medical workers who treated the 24-year-old man who was later identified as the first case, have tested positive for Ebola.
A total of 24 people have been confirmed to be infected by the virus in the country, five of whom have died, since the outbreak was declared last week.
BBC
Kenya's women's marathon world record holder Brigid Kosgei has withdrawn from Sunday's London Marathon due to injury.
Kosgei, 28, says an injury in her right hamstring has affected her ability to train over the past month.
The two-time winner in London was fourth in last year's race after taking silver at the Tokyo Olympics.
"I would like to prepare to be in top condition," she said. "We've decided it's best I withdraw and get further treatment on my injuries."
Kosgei, who won the London Marathon in 2019 and 2020, set the women's world record of two hours 14 minutes four seconds at the 2019 Chicago Marathon. She won this year's Tokyo Marathon in 2:16:02 – the fourth-fastest time in history.
The women's field in Sunday's London Marathon still features several world-class athletes, including Kosgei's compatriot and last year's winner Joyciline Jepkosgei, 29, and Ethiopia's Yalemzerf Yehualaw, 23, who set the fastest debut time for a marathon and holds the world record in the 10km road race.
The field in the men's elite race is headed by Ethiopia's Sisay Lemma, who won last year, and Britain's Mo Farah.
Sunday's elite races and the mass participation event will be covered live on the BBC from 08:30 BST – across BBC One and BBC Two, as well as the Red Button and iPlayer. There will also be full coverage and text updates on the BBC Sport website and app.
KAMPALA — Uganda's President Yoweri Museveni has assured the country that an Ebola outbreak is under control and that no restrictions on movement are needed. The country's health officials confirmed cases of a deadly Sudan ebolavirus with six reported deaths out of 31 confirmed cases. Uganda's medical association says some of its members are critically ill and has threatened to join a strike by medical interns over what they say is inadequate personal protective equipment.
In an address to the nation Wednesday night, President Yoweri Museveni urged Ugandans to avoid coming in contact with body fluids such as blood, feces and vomit from infected people.
Even though the source for the Sudan ebolavirus, a strain for which the World Health Organization says cross-protection of vaccine for other Ebola strains has not been established, Museveni warned Ugandans against eating meat from monkeys, chimpanzees and gorillas.
"I want to reassure Ugandans and all residents that the government has the capacity to control this outbreak as we have done before. Therefore, there's no need for anxiety, panic, restriction of movement or unnecessary closure of public places like schools, markets, places of worship etc. as of now," he said.
The 31 Ebola cases confirmed so far include six health care workers, including four doctors, one anesthesiologist and one medical student who was exposed to the first case in the district of Mubende, Kyegegwa and Kassanda.
Museveni who cautioned Ugandans against shaking hands also says Uganda is still discussing a vaccine for the Sudan ebolavirus that was first reported on August 6. Uganda only has a stock of the Zaire ebolavirus that was reported in the neighboring Democratic Republic of Congo. There is currently no approved vaccine for the Sudan ebolavirus.
"One of the issues we were debating the other day was, why not use the vaccine of Ebola Zaire. Even though it's not specific for Ebola Sudan, but it's Ebola," he said. "They share some of the characteristics. And it is safe. And we have used it on our soldiers. So, is there any harm in trying it?"
The government has now set up an Ebola treatment unit with a 51-bed capacity for confirmed cases and 80 beds for suspected cases.
To shorten the turnaround time of sampling, processing and improving patient care, two mobile diagnostic laboratories will be deployed in the Mubende district by Friday.
Health Minister Dr. Jane Ruth Acheng also allayed fears among health workers especially those infected with the virus.
"We want to appreciate the work that they are doing. But also reassure them that they will be taken care of and given the necessary supportive care and treatment so that we ensure that we don't lose them," she said.
President of the Uganda Medical Association Dr. Sam Oledo, however, describes a different situation in the affected districts for health workers.
"When we start losing health workers, I don't think it can be under control. It's painful that this morning the intern and the SHO [Senior Health Officer] are on oxygen, and they are not doing well. What we are trying to mobilize now is ICU management. We cannot afford to have the corpse of a medic at such a time. And I assure you, if the worst happens, we shall withdraw services in Mubende," he said.
The Sudan ebolavirus is less common than the Zaire ebolavirus and has no current, effective vaccine. Sudan ebolavirus was first reported in Southern Sudan in 1976. Although several outbreaks have been reported since then in both Uganda and Sudan, the deadliest outbreak in Uganda was in 2000 claiming over 200 lives.
Uganda's last Ebola outbreak, in 2019, was confirmed to be the Zaire ebolavirus. It last reported a Sudan ebolavirus outbreak in 2012.
Staff Writer, ZAWYA
Kenya's National Social Security Fund (NSSF) has paid an interest of 10% on retirement savings in the year ended June 30, 2021, up from 7% a year earlier, Business Daily newspaper reported.
The interest payout, considered the largest on the retirement savings in seven years, comes from a 237% rise in net investment income to 32.3 billion Shillings ($267.72 million), supported by dividends from Nairobi Securities Exchange-listed firms.
NSSF returns have beaten the average inflation of 5.34 percent for the period. In 2014, the fund paid a 12.5% interest rate.
The report said the fund had invested 152.9 billion Shillings in government bonds, up from 124.2 billion Shillings last year. On the other hand, the value of quoted securities grew to 66.6 billion Shillings from 52.5 billion Shillings.
Ebola infections have risen across districts in Uganda, bringing the cumulative number of confirmed and suspected deaths to 23, health authorities in the east African country said Monday.
Uganda declared an Ebola outbreak last Tuesday after a case of the relatively rare Sudan strain was detected in the country's Mubende district.
The virus has now spread to neighboring Kyegegwa and Kassanda districts, with the Ugandan Health Ministry reporting that cumulative cases had risen to 36, including confirmed and probable cases. No cases have been detected in the capital city Kampala.11 dead in suspected and confirmed Ebola cases in Uganda
The Ugandan Health Ministry considers a "probable case" as any person who died from suspected EVD (ebola) and had an epidemiological link to a confirmed case but was not tested and did not have lab confirmation.
The ministry considers "confirmed cases" as those with positive lab results. Of the number of infections identified so far, 18 of the cases have been confirmed to be infected while another 18 were suspected of having the virus.
The ministry also stated that five of the deceased patients were confirmed to have died of the virus while 18 were listed as probable deaths. Around 35 patients are currently being admitted, it added.
Uganda has experienced four Ebola outbreaks. The deadliest left more than 200 people dead in 2000.
According to the World Health Organization, vaccination against the rare Sudan strain hasn't been tested for efficacy. However, the Ervebo (rVSV-ZEBOV) vaccine has been found to be effective in protecting against the Zaire variant of the Ebola virus.
GENEVA — A highly contagious strain of the deadly Ebola virus in Uganda is causing a quick and significant rise in the number of cases and fatalities, the World Health Organization said.
Uganda health officials declared an outbreak of Ebola a week ago. Five days later, on September 25, they confirmed the disease had infected 36 people, killing 23.
It is the first Ebola disease outbreak caused by the Sudan virus in Uganda since 2012. A vaccine is available to protect adults from becoming infected with the more common Zaire strain of Ebola. However, a similar vaccine does not exist for the Sudan virus.
Ana Marie Henao-Restrepo, WHO co-lead R & D Blueprint for epidemics in the Health Emergency Program, said several possible vaccines are under development.
"We have identified there are three candidate vaccines that have … clinical data, data from humans on safety and homogenicity. It is specifically designed to protect against the Sudan virus and that could be tested in a randomized trial in Uganda, if the Ugandan authorities decide to do so," she said.
The Ebola virus is spread by contact with an infected patient's blood or bodily fluids. The WHO reports the median age of cases in Uganda is 26, with 62 percent female and 38 percent male. The disease has a fatality rate of 41 percent.
WHO spokeswoman Carla Drysdale said WHO experts are working with Uganda's experienced Ebola control teams to reinforce diagnosis, treatment and preventive measures.
"While there is no vaccine to treat Sudan Ebola virus, other health measures such as swift detection, community engagement, isolation of patients, and early supportive care have proven to save lives in similar outbreaks," Drysdale said. "We must raise awareness in the community that seeking treatment early significantly increases chances of survival."
While Uganda is struggling to prevent Ebola from spreading, the Democratic Republic of the Congo declared on Tuesday the end of an Ebola outbreak, which emerged in North Kivu Province six weeks ago. North Kivu, which has a vaccine against the Zaire virus, experienced only one confirmed case of Ebola and no deaths.
Former Nigeria international John Mikel Obi has retired from football at the age of 35, declaring himself "very satisfied with all I was able to achieve" during 18 years in the game.
The midfielder, who lifted the Champions League with Chelsea in 2012, won 89 caps for Nigeria and helped the Super Eagles win the 2013 Africa Cup of Nations, before retiring from international football in 2019.
The biggest highlights of his career came during 11 trophy-laden years at Stamford Bridge, even if it took him until his 185th game for the club to score his first goal.
He made 249 Premier League appearances in all for the London club, adding the Europa League, two Premier Leagues, four FA Cups and two League Cups to the European crown.
"There is a saying that 'all good things must come to an end', and for my professional football career, that day is today," said Mikel on Instagram.
"I look back at the past 20 years of my career, and I must say that I am very satisfied with all that I was able to achieve and more importantly the human it has helped shape."
Mikel was most recently with Kuwait SC, but left the club last November after just five months.
The midfielder came to international limelight at Norwegian club Lyn Oslo following Man United's incredible transfer fight with Chelsea for his signature as a teenager.
One of Premier League football's most confusing signings saw Mikel initially signing for Manchester United in 2005, a year when he won the Silver Ball at the Under-20 World Cup, before later saying he was pressured to do so – having signed just days after turning 18 against "my own free will".
He ultimately joined Chelsea the following year, staying until 2017 whereupon he played for Chinese side Tianjin Teda and Turkish club Trabzonspor before spells in the Championship with Middlesbrough and Stoke City.
"All of this would not have been possible without the unwavering support of my family, managers, clubs, coaches, team-mates and most importantly my ever-loyal fans," he added.
"You supported me through my highs and lows, even on days that I did not live up to your expectations.
"I say a big thank you."
Analysis
Oluwashina Okeleji, Nigerian football expert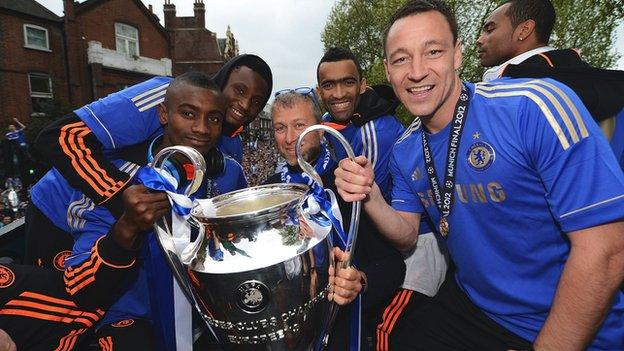 When officials misspelt his surname (Michael to Mikel) aged 16 before the 2003 Youth World Championship, it opened the first controversial chapter in the life of John Mikel Obi.
The seventh child in a family of eight, he was on the books of Norwegian club Lyn Oslo before the highly-publicised dispute between the Red Devils and the Blues in 2005, with the player skipping training in Norway amidst erroneous reports he had been kidnapped.
His father was kidnapped twice during his career, to Mikel's immense dismay, but at Chelsea the Nigerian evolved into a holding midfielder of peerless intelligence and insouciance.
He will go down as one of Nigeria's greatest players, having earned his spot among the country's most decorated footballers even if he was a polarising figure, equally loved and criticised by demanding fans from Africa's most populous nation.
He left his mark at two World Cups, won a Nations Cup, captained his country to an Olympic bronze medal (2016) and performed unforgettably at the Under-20 World Cup in 2005, a stage in his career when he was known as a free-scoring box-to-box midfielder.
For Chelsea fans, they will always have that glorious Champions League final night in 2012, when Mikel was named man of the match.
HARARE, ZIMBABWE — There was a festive mood with music, food and decorations at Zimbabwe's State House last Friday as Chinese investors signed a deal to build a $2.8 billion battery metals industrial park.
Zimbabwean authorities say the lithium, platinum and nickel production will be used to make solar batteries.
President Emmerson Mnangagwa said the project, about an hour's drive northwest of Harare, would help turn around the decline of Zimbabwe's economy.
"The mines-to-energy park will augment my government's thrust of value addition and beneficiation of minerals, as well as bolster the crucial role that minerals' value chain plays in the national industrialization agenda," he said. "It is set to mark the inception of a lithium ion battery chain in Zimbabwe. It is set to place Zimbabwe among the world's producers of lithium ion batteries."
Zimbabwe's government plans to provide the land and minerals for the park, while the two Chinese companies investing will bring in machinery and needed funds.
Mnangagwa is aiming for a $12 billion mining industry in Zimbabwe by next year.
Lionel Mhlanga, director at Hong Kong Eagle International Holdings, one of the Chinese investors, said the project "will revolutionize the mining and energy sector of Zimbabwe, ensuring optimum value addition for all minerals extracted locally. Zimbabwe is endowed with most if not all minerals needed in this clean energy drive. Eagle International Investment Holdings and Pacific Goal Investment are partnering with the government of Zimbabwe to set up this industrial park. This multibillion-dollar project, on completion, will have a turnover exceeding $13 billion annually."
But critics note Zimbabwe has announced several multibillion-dollar projects in recent years that fell apart, include mining by Russian investors for platinum and Chinese for diamonds.
The projects that do go forward rarely benefit ordinary Zimbabweans, said opposition lawmaker and rights activist Daniel Molokele.
"The mining model that we have, which favors countries such as China, is a big disadvantage for the poor people of Zimbabwe because the investment method is called extractive mining," he said. "It's to the advantage of the investor [rather] than to local communities. So Zimbabwe is not benefiting — at least at common citizen level — until and unless we come up with a mining model that favors local communities, that allows for shareholding and profiting for local communities in all mining investments."
Zimbabwe is home to valuable minerals such as gold, iron, diamonds, lithium, platinum and chrome. But the World Bank says half of Zimbabweans live on less than $1 per day.
Farai Maguwu, the director of the Centre for Natural Resource Governance, a group working to improve governance of Zimbabwe's natural resources, said the metals park deal needs to be transparent and aimed at helping locals, or else Zimbabwe will remain a resource-cursed country.
"If the government is merely looking at creating jobs, then that's a very minimal expectation that we can have out of this project," he said. "What we see with the Chinese in Zimbabwe is that everything they are getting, they are taking to China. That's why the influx of Chinese investors in Zimbabwe is not contributing anything, even to liquidity, in our financial sector, simply because the Zimbabweans are not involved in these projects. We are simply giving them access to our resources without any plan."
The battery metals park is expected to be up to 50 square kilometers in size when completed in about three years.