BBC
Egypt's National Olympic Committee (NOC) says "it is time for Africa" as it tries to become the first country on the continent to host the Olympic Games.
On 24 September, Egypt President Abdel Fattah al-Sisi gave governmental backing to a possible bid while International Olympic Committee (IOC) president Thomas Bach was visiting the country.
"We're preparing the letter to [the] IOC, with our intention to present a bid for the 2036 Olympic Games," NOC secretary general Sharif El Erian told BBC Sport Africa.
"It's time for Africa. It's the only continent that did not host the Summer Olympic Games, and I think Egypt is one of the few countries in Africa where the infrastructure is ready from today to host such a huge event."
A statement issued by the Egyptian cabinet said that IOC president Bach had "asserted that Egypt's sporting infrastructure gives it an opportunity to host the 2036 Olympic Games".
A guest of the country's sports ministry, Bach had been visiting the 92-acre complex that will be named the Olympic City, to be built in the so-called New Administrative Capital currently under construction some 40 kilometres east of the existing capital Cairo.
Work on the Olympic Stadium, which started in 2019 and which will be Africa's second biggest sports stadium, is at an advanced stage, with El Erian saying that many facilities are already ready to go.
"The only thing that needs to be built is the Olympic Village, but winning the bid comes more than seven years before the actual Games," explained El Erian.
"So if we do win the bid, we have enough time to build a state-of-the-art Olympic Village."
Egypt, which has hosted several continental and global events such as the Africa Cup of Nations and World Handball Championship in recent years, had been considering a bid for the 2032 Games.
Yet Brisbane was announced as host last year before any Egyptian intention had been made, with organisers less keen after the coronavirus pandemic delayed a proposed visit by Bach to the north African nation originally set for 2020.
"We know that we have to act now," El Erian said, even though the formal bidding process is still some years away from beginning.
"We know we have competition from five to six other countries who have put their intention that they would also love to host, but we are confident that our bid will be one of the strongest."
Other countries with cities reported to be interested in hosting the 2036 Games are Germany, India, Mexico, Qatar, Turkey and Russia.
"I have to calm people down"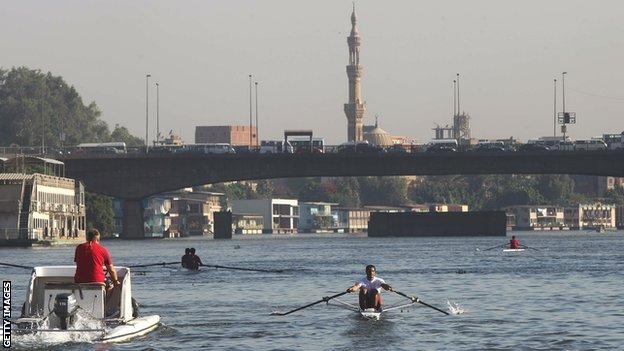 Since governmental backing was given to the 2036 bid, the enthusiasm among Egyptians for hosting the Games has been so great that some believe the Games have already been awarded.
In reality, Egypt's NOC is working on the assumption that no decision will come before the next Games, in Paris, in 2024 but will be made before the end of the decade.
"The population are so happy – the media, everyone is talking about it," says El Erian.
"I'm trying to calm the people down, saying we did not win the bid yet, but some people think we already won it and they are celebrating the fact Egypt will host it.
"Nothing can be 100% – you will find some opposition, of course – but let's say 99% of the population will be backing it. We love sports and the Olympics is the biggest event in the world."
The decision will ultimately be only the second awarded under the IOC's revised process where the Future Host Committee engages in targeted dialogue with selected countries in an aim to reduce unnecessary expenditure on bidding.
Budgetary boost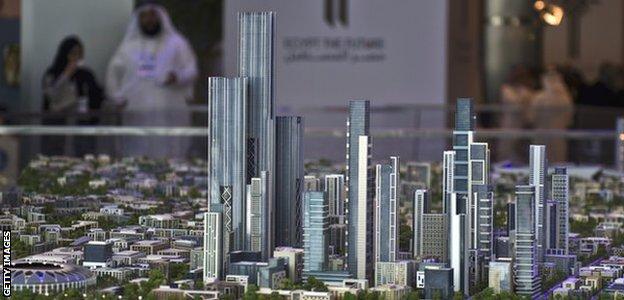 Should Egypt get to host the Games, which El Erian has been working on for many years, he believes it will restore the country's fortunes after a spell when its reputation was clouded by revolutions, political turmoil and civil instability.
In contrast to the cost of staging many Olympics, Egyptian authorities believe the event could propel the economy and tourist industry in Egypt given the existing facilities and expected number of people going to watch any Games.
"It will be the best thing ever for Egypt," says El Erian. "It will boost tourism, for sure, and will give a positive look and idea of Egypt.
"It will boost the economy too, especially since we have the infrastructure in place. We are not going to spend billions getting ready for this Olympics – no, Egypt is ready."
Egyptian security has long been a question mark, particularly since President Hosni Mubarak was toppled by the Arab Spring in 2011, before a coup overthrew the Muslim Brotherhood's Mohammed Morsi, the country's first freely-elected president, two years later.
In 2014, the Islamic State group intensified its insurgency in the Sinai Peninsula while an explosion targeting a tourist bus in Cairo in 2019 injured at least 16 people.
Incidents have calmed down in recent years, prompting El Erian to declare Egypt as "extremely stable" at present.
"Everything has been back to normal for many years now. Safety-wise, Egypt is an extremely safe country. Tourism, infrastructure, everything is in place – so why not go for it?"
The Egyptians have bid for three previous Olympics (1916, 1936 and 2008), with South Africa – in 2004 – the only other African country to have also tried.
The next three summer Games are scheduled to be in Paris in 2024, Los Angeles in 2028 and Brisbane in 2032.
Reuters News
India beat South Africa by 16 runs in a high-scoring Twenty20 international in Guwahati on Sunday to take an unassailable 2-0 lead in the three-match series as David Miller and Quinton de Kock's unbeaten 174-run stand was in vain.
Chasing an imposing 237, the visitors fell short as India's imperious batting performance helped them clinch victory as well as their first home T20 series win over South Africa.
Miller struck a fine 106 off 47 balls and his unbeaten stand for the fourth wicket with opener De Kock threatened to take the game away from India but the task ultimately proved too much.
South Africa were reeling at 5-2 at the end of the second over after Temba Bavuma and Rilee Rossouw fell for ducks to Arshdeep Singh. Aiden Markram then hit 33 from 19 in a valiant effort but De Kock struggled to a 48-ball 69.
Play was stopped in the third over of the chase after one of the four floodlight towers in the stadium went out. It was the second interruption of the match after a snake slithered onto the field in a bizarre turn of events early in India's innings.
India were put in to bat and smashed over 150 runs in boundaries to reach a commanding 237-3, thanks to Suryakumar Yadav's blazing 22-ball 61 after opener KL Rahul had got off the blocks in a flash to make 57 from 28.
Keshav Maharaj provided the visitors with a breakthrough by ending the 96-run opening stand, dismissing skipper Rohit Sharma (43) in the 10th over before trapping Rahul leg before wicket in the 12th to finish with an excellent 2-23.
Yadav joined Virat Kohli on the crease with the momentum seemingly shifting towards South Africa but did not take long to settle in, continuing his sparkling form to bring up a half century in only 18 balls.
Kohli finished unbeaten on a 28-ball 49 and Dinesh Karthik smacked 17 in his seven-ball cameo as India reached their fourth-highest total in T20s.
The final match of the series will be played in Indore on Tuesday.
JOHANNESBURG, Oct 1 (Reuters) – Guinea have been stripped of the right to host the 2025 Africa Cup of Nations finals and the bidding for the tournament is set to be reopened on Saturday, the Confederation of African football announced early on Saturday.
It follows a meeting on Friday in Conakry between Guinea's interim president, Colonel Mamady Doumbouya, and the president of African football's governing body, Patrice Motsepe, to discuss the withdrawal after the west African country, among the poorest of the continent, said it was not ready to host the 24-nation tournament.
"I visited Guinea out of respect to the people of Guinea to discuss CAF's willingness to advise and work together with the football stakeholders to construct and build football infrastructure and facilities in this country, in the light of the decision by CAF not to proceed with the AFCON 2025 in Guinea," Motsepe said in a statement.
Although just announced, the decision had been made as early as June, sources told Reuters.
The CAF executive committee will be meeting in Algiers on Saturday and will take a decision to reopen the bidding process for the 2025 tournament, the CAF statement said.
In 2014, Guinea originally were awarded the hosting rights to the 2023 finals, along with Cameroon (2019) and Ivory Coast (2021).
But Cameroon were stripped of the right to host the 2019 tournament, as they were not ready, with Egypt filling in. Cameroon were then awarded the 2021 tournament, which eventually took place earlier this year after a one-year postponement because of the COVID-19 pandemic.
The Ivory Coast were due to host the next tournament in mid-2023 but that has been moved to early 2024 after concerns over the weather at that time of the year in the region.
The expansion of the Cup of Nations finals to 24 teams in 2019 meant Guinea's sparse infrastructure was always going to be stretched and the decision is no surprise.
The country suffered a coup one year ago when special forces commander Doumbouya ousted President Alpha Conde. A year earlier, Conde had changed the constitution to circumvent limits that would have prevented him from standing for a third term, triggering widespread rioting.
Doumbouya became interim president and promised a transition to democratic elections within three years.
The 15-member Economic Community of West African States rejected the timeline and imposed sanctions on junta members and their relatives, including freezing their bank accounts.
In July, the regional bloc gave Guinea until Oct. 22 to establish a "reasonable" timetable, or face additional sanctions.
BBC
Kenya's women's marathon world record holder Brigid Kosgei has withdrawn from Sunday's London Marathon due to injury.
Kosgei, 28, says an injury in her right hamstring has affected her ability to train over the past month.
The two-time winner in London was fourth in last year's race after taking silver at the Tokyo Olympics.
"I would like to prepare to be in top condition," she said. "We've decided it's best I withdraw and get further treatment on my injuries."
Kosgei, who won the London Marathon in 2019 and 2020, set the women's world record of two hours 14 minutes four seconds at the 2019 Chicago Marathon. She won this year's Tokyo Marathon in 2:16:02 – the fourth-fastest time in history.
The women's field in Sunday's London Marathon still features several world-class athletes, including Kosgei's compatriot and last year's winner Joyciline Jepkosgei, 29, and Ethiopia's Yalemzerf Yehualaw, 23, who set the fastest debut time for a marathon and holds the world record in the 10km road race.
The field in the men's elite race is headed by Ethiopia's Sisay Lemma, who won last year, and Britain's Mo Farah.
Sunday's elite races and the mass participation event will be covered live on the BBC from 08:30 BST – across BBC One and BBC Two, as well as the Red Button and iPlayer. There will also be full coverage and text updates on the BBC Sport website and app.
Former Nigeria international John Mikel Obi has retired from football at the age of 35, declaring himself "very satisfied with all I was able to achieve" during 18 years in the game.
The midfielder, who lifted the Champions League with Chelsea in 2012, won 89 caps for Nigeria and helped the Super Eagles win the 2013 Africa Cup of Nations, before retiring from international football in 2019.
The biggest highlights of his career came during 11 trophy-laden years at Stamford Bridge, even if it took him until his 185th game for the club to score his first goal.
He made 249 Premier League appearances in all for the London club, adding the Europa League, two Premier Leagues, four FA Cups and two League Cups to the European crown.
"There is a saying that 'all good things must come to an end', and for my professional football career, that day is today," said Mikel on Instagram.
"I look back at the past 20 years of my career, and I must say that I am very satisfied with all that I was able to achieve and more importantly the human it has helped shape."
Mikel was most recently with Kuwait SC, but left the club last November after just five months.
The midfielder came to international limelight at Norwegian club Lyn Oslo following Man United's incredible transfer fight with Chelsea for his signature as a teenager.
One of Premier League football's most confusing signings saw Mikel initially signing for Manchester United in 2005, a year when he won the Silver Ball at the Under-20 World Cup, before later saying he was pressured to do so – having signed just days after turning 18 against "my own free will".
He ultimately joined Chelsea the following year, staying until 2017 whereupon he played for Chinese side Tianjin Teda and Turkish club Trabzonspor before spells in the Championship with Middlesbrough and Stoke City.
"All of this would not have been possible without the unwavering support of my family, managers, clubs, coaches, team-mates and most importantly my ever-loyal fans," he added.
"You supported me through my highs and lows, even on days that I did not live up to your expectations.
"I say a big thank you."
Analysis
Oluwashina Okeleji, Nigerian football expert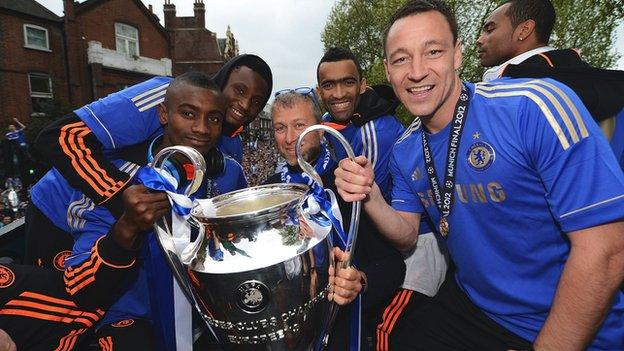 When officials misspelt his surname (Michael to Mikel) aged 16 before the 2003 Youth World Championship, it opened the first controversial chapter in the life of John Mikel Obi.
The seventh child in a family of eight, he was on the books of Norwegian club Lyn Oslo before the highly-publicised dispute between the Red Devils and the Blues in 2005, with the player skipping training in Norway amidst erroneous reports he had been kidnapped.
His father was kidnapped twice during his career, to Mikel's immense dismay, but at Chelsea the Nigerian evolved into a holding midfielder of peerless intelligence and insouciance.
He will go down as one of Nigeria's greatest players, having earned his spot among the country's most decorated footballers even if he was a polarising figure, equally loved and criticised by demanding fans from Africa's most populous nation.
He left his mark at two World Cups, won a Nations Cup, captained his country to an Olympic bronze medal (2016) and performed unforgettably at the Under-20 World Cup in 2005, a stage in his career when he was known as a free-scoring box-to-box midfielder.
For Chelsea fans, they will always have that glorious Champions League final night in 2012, when Mikel was named man of the match.
Kenyan marathon runner Eliud Kipchoge is spurring young athletes to follow in his footsteps after breaking his own world record Sunday in Berlin.
Cheers erupted from the crowd Sunday at Nairobi's Karura Forest as they watched Kipchoge race on TV. The watch party followed an amateur marathon organized by the Friends of Karura Forest to celebrate their 25th anniversary.
Karanja Njoroge, a past chairman of the conservation group who serves on its board, called Kipchoge's win "absolutely magnificent."
"Everybody went wild," Njoroge said of the crowd at the watch party. "Seeing the guy was way ahead. Everybody felt so elated by the efforts of our king of athletics, Eliud Kipchoge."
Kipchoge's new record, 30 seconds faster than his previous world record set in Berlin in 2018, is now two hours, one minute and nine seconds. Njoroge called it an inspiration.
"I think it encourages people. Gives people hope. And even those who would never compete begin to believe, because this guy is 37 years old and he's breaking world records," Njoroge said.
Barnabas Korir, an executive member of Athletics Kenya, the governing body for track and field sports, agreed.
"He's inspired the youth, but not only the youth but particularly all the athletes from Kenya," Korir said. "You know Kipchoge is one of the few athletes who is completely determined. He's also very focused."
Korir, who is also chairman of youth development at Athletics Kenya, said camps have been set up nationwide to encourage sports.
"We got the support from the government to do that and in the last 3 years, Eliud Kipchoge talk to the athletes when they were in the camps," Korir said. "So, this is an opportunity for us now to give our athletes a symbol that they can do well if they remain focused, if they work hard."
Kipchoge has won 15 out of his 17 career marathons, including two Olympic gold medals.
Daniel Schearf contributed to this report.
Egypt will apply to host the Summer Olympic Games in 2036, the Egyptian youth and sports minister said in a statement on Saturday, a bid that if successful would make it the first Arab or African nation to host the event.
Egyptian President Abdel Fattah Al-Sisi gave the green light to apply, Minister Ashraf Sobhi added during a reception for International Olympic Committee President Thomas Bach in Cairo.
The statement, issued by the Egyptian cabinet, quoted Bach as saying Egypt's sports infrastructure was capable of hosting the event.
The summer Olympics will be held in Paris in 2024, followed by Los Angeles in 2028 and Brisbane, Australia in 2032.
The process of applying for to host the 2036 Olympics has not yet begun, while there are reports of interest from countries including Germany, Mexico, Turkey, Russia, India and Qatar.
Ons Jabeur will wait again before lifting her first title in Grand Slam. The Tunisian was beaten in the final of the US Open by the Polish Iga Swiatek in two sets.
Second Grand Slam final. Second defeat for Ons Jabeur. The Tunisian lost in the final of the US Open on Saturday, September 10. The world No. 5 lost to the Polish Iga Swiatek in two sets (6-2, 7-5). The world No. 1 dominated the match from start to finish. And the Tunisian made a catastrophic start to the match allowing her opponent to lead 3-0. Ons Jabeur still came back to 3-2. But Swiatek took control. She finished the first set in half an hour (6-2).
Tensed, Ons Jabeur also missed the start of the second set. She concedes a 3-0. Very dynamic since the beginning of the match, Swiatek relaxes. Jabeur took advantage of this to get back into the match. She even managed to break and get back to 4 all. The 28 year old player was more enterprising and forced Swiatek to defend, pushing back the balls. Jabeur even had three break points in this game, only one of which would have allowed her to serve for the set. But she couldn't capitalize on them, missing a groundstroke each time.
Then, at 6-5, Swiatek held her first point as Jabeur served. It took a tiebreak to separate the two players in this set. The world's No. 1 player was very solid and won the match with flying colors (7-5). Ons Jabeur was on the verge of tears as she missed out on her second Grand Slam final this season.
https://sportnewsafrica.com/en/all-african-countries/tennis-us-open-ons-jabeur-misses-out-on-the-title-again/
The first knockout competition in South Africa's topflight, the MTN8, got underway as defending champions Mamelodi Sundowns made an impressive start thanks to goals from their new signings, Abubeker Nassir and Marcelo Allende.
Sundowns beat Pretoria rivals SuperSport United 2-0 at Tuks Stadium on Sunday, 28 August, to progress to the semi-final of the competition. After a goalless first half between the two sides, Sundowns made changes in the second period, bringing on Nassir and Allende. It was the latter who opened the scoring for Sundowns, before Ethiopian international Nassir tapped in from close range to seal another impressive win for the CAF Champions League participants.
In the other game played on Sunday, giants Kaizer Chiefs needed a penalty shootout to overcome a stubborn Stellenbosch FC side. Hosts Stellenbosch opened the scoring through Sihle Nduli, but Chiefs bounced back before halftime with a goal from Ashley du Preez, who did not want to celebrate against his former side.
The match went into extra time when the sides could not be separated at the end of regulation time. Extra-time did not produce any goals, so the game had to be settled from the penalty spot in a shootout.
Chiefs goalkeeper Itumeleng Khune made two saves during the penalty as Chiefs won 4-3 to book a spot in the semi-finals.
On Saturday, 27 August, AmaZulu beat Cape Town City 2-1 at Athlone Stadium to qualify for the semis. AmaZulu opened the scoring in the first 10 minutes of the game through the boot of Nigerian striker Augustine Kwem. City equalized before the break when striker Khanyisa Mayo found the back of the net. It needed extra time for the winning goal to be score, as Lehlohonolo Majoro stood out as hero with his strike in the 113th minute.
In the other match played on Saturday, Orlando Pirates beat Royal AM. Vincent Pule and Thabiso Monyane were on the scoresheet for Pirates.
Cameroon will receive the FIFA World Cup trophy from the 8-9th September 2022 as the Trophy Tour resumes with the silverware heading to all 32 nations qualified for the first time.
The trophy tour in Africa kicks off on September 3 in Ghana before heading to Senegal on September 6. After the Cameroon stint, the trophy will head to Morocco on September 10 before concluding its trip on the continent in Tunisia on the 13-14 September.
For the first time, the FIFA World Cup Trophy Tour by Coca-Cola will visit all 32 nations that have qualified for the tournament. Simultaneously, FIFA is launching its Spotlight: Your Dreams global campaign with legends and creators, including social media sensation Noah Beck.
The second and final leg of this year's FIFA World Cup™ Trophy Tour by Coca-Cola kicked off in Seoul, Korea Republic, following a send-off event at the Home of FIFA in Zurich starring 2002 FIFA World Cup™ winner Gilberto Silva. The spellbinding journey – which, for the first time, is offering all 32 qualified nations the chance to see football's biggest prize up close – will finish in Doha, Qatar just a few days before the greatest show on Earth gets underway on 20 November 2022.
Thanks to Coca-Cola, FIFA's longest-standing partner, the FIFA World Cup Trophy Tour by Coca-Cola has been bringing the most iconic trophy in the world to fans globally since 2006. In total, the 2022 edition will stop in 51 countries and territories, taking Coca-Cola and FIFA one step closer to the goal of the trophy visiting each of FIFA's 211 member associations by 2030.
Colin Smith, FIFA's Chief Operating Officer – World Cup, said: "The first phase of the FIFA World Cup Trophy Tour by Coca-Cola was a fantastic success, engaging the broader public through the magic of the largest football festival on Earth."
"By, for the first time, visiting all the nations that have qualified for the FIFA World Cup, the momentum of the Trophy Tour will continue to build, giving fans of all ages a taste of the excitement to come – and we hope they will join us in Qatar later this year for the ultimate celebration of the beautiful game."
Simultaneously, FIFA is launching its Spotlight: Your Dreams campaign with an announcement from Noah Beck, a former collegiate football player turned social media sensation, who is the global ambassador for the campaign.
FIFA Legends at several tour destinations will be sharing their dreams – past, present, and future – and fans will be able to create their own "Dream Cam" moments in an augmented-reality photo experience. Emerging artists from football and beyond, commissioned and spotlighted by FIFA, will make guest appearances on-site to showcase their own FIFA World Cup-themed artwork. FIFA is also set to give fans around the world the stage to share their FIFA World Cup dreams in the form of fan art, via social media, in a contest that will conclude at the end of the tour.