By Rédaction Africanews with AP
South Africa is pursuing a sponsorship deal with Premier League club Tottenham, following in the footsteps of the United Arab Emirates, Rwanda, Malta and others who have used the world's biggest soccer league to promote their countries.
The Ministry of Tourism said on Wednesday it was looking to conclude a memorandum of understanding with Tottenham through SA Tourism, which is the tourism marketing arm of the government.
South African media reports claimed the deal would be worth 48 million euros over three years from the start of the 2023-2024 season and give SA Tourism branding space on Tottenham's uniform, among other things. The Ministry of Tourism didn't give financial details of the deal and said it must still gain final approval from the government.
Right now, the proposal was to conclude a memorandum of understanding with Tottenham, the ministry said.
Tottenham's north London rival Arsenal has a "Visit Rwanda" message on its shirt sleeve, while UAE's two official airlines, Emirates and Etihad, are the principal sponsors of Arsenal and Manchester City, respectively.
Manchester United has an agreement to promote the Mediterranean island nation of Malta.
The proposed deal was criticised by a South African opposition party, which said the money reportedly involved — which is equivalent to more than 900 million South African rand — represented nearly 40 percent of SA Tourism's budget. The party, ActionSA, also questioned who would benefit from some of the other perks of the deal for South Africa.
It "arguably has more to do with the benefit officials and politicians will derive from the agreement, including gaining access to stadium hospitality and tickets at Tottenham Hotspur games in London," ActionSA said.
SA Tourism has been active in promoting South Africa after the country's important tourism sector was badly impacted by travel lockdowns caused by the COVID-19 pandemic. SA Tourism has also partnered with the streaming service Netflix to promote South Africa to potential international visitors.
President Cyril Ramaphosa will give his State of the Nation address on February 10th and it's believed the deal will be announced then.
Cristiano Ronaldo has just completed a move to Saudi Arabian club Al Nassr, but made a slip up during his official presentation in Riyadh on Tuesday when mistakenly saying he had "come to South Africa."
Perhaps the Portugal great was disorientated by the whirlwind nature of his arrival at his new club, which saw him fly out to Saudi on Monday night, before undergoing a medical the next morning and then being greeted by thousands of cheering fans at Al Nassr's Mrsool Park stadium.
"For me, it is not the end of my career to come to South Africa," Ronaldo said at a news conference before stepping out on the field at the 25,000-capacity stadium. "I really don't worry about what people say. I took my decision and I have a responsibility to change that, but for me I'm really, really happy to be here."
READ MORE: Cristiano Ronaldo, the new prince of Arabia
After what was clearly a slip of the tongue, Ronaldo went on to outline his reasons for joining Al Nassr and said he had turned down "many clubs" around the world to complete one of the most surprising moves in soccer history.
"I want to give a different vision of this country and football. This is why I took this opportunity," he said. "I know the league is very competitive. People don't know that, but I know because I saw many games,"
Ronaldo has signed a two-and-a-half-year contract to play in the Saudi Pro League and will reportedly earn up to $200 million a year.
READ ALSO: Pele lives on as over 700 Peruvian children named after legend
The former Manchester United, Real Madrid and Juventus forward also said is ready to play straight away with Al Nassr facing Al Ta'ee on Thursday.
However, the 37-year-old Ronaldo was handed a two-match suspension by the English Football Association in November for knocking a mobile phone out of the hand of a supporter after a game against Everton last April.
He had already left United by the time of the ruling, but the FA said the suspension would be transferred to any new club.
AFP , Wednesday 4 Jan 2023
World Cup history makers Morocco must wait until September for their next competitive match — a 2023 Africa Cup of Nations qualifier in South Africa.

Morocco star Hakim Ziyech (L) playing against Croatia in the World Cup third-place playoff in Qatar on December 17, 2022. Anne-Christine POUJOULAT / AFP
The Atlas Lions, who last month became the first World Cup semi-finalists from Africa, were due to play Zimbabwe twice during March in the Cup of Nations.
But Zimbabwe were barred from the premier African national team competition by world body FIFA due to government interference in the sport.
So Morocco will have to settle for friendly fixtures in the March and June international windows before visiting South Africa and hosting Liberia between September 4-12 in Group K.
Morocco top the table with a maximum six points after beating South Africa 2-1 and Liberia 2-0 last June.
The teams finishing first and second qualify for the 2023 finals in the Ivory Coast, which have been postponed to January and February 2024 because of the rainy season in west Africa.
Despite being one of the strongest national teams in the continent for decades, Morocco have won the Cup of Nations only once, in Ethiopia 47 years ago.
The closest the north African kingdom came since was losing 2-1 to hosts Tunisia in the 2004 title decider.
Walid Regragui, the coach who masterminded wins over Belgium, Spain and Portugal in Qatar before falling to France in the semi-finals, expects at least a last-four place at the next Africa Cup.
"We must be at least in the semi-finals of the (2023) CAN (Cup of Nations)," the former national team defender told the Moroccan Arryadia sports channel.
"If I do not go to the semi-finals I will leave on my own," added the France-born 47-year-old, who became coach of Morocco only three months before the World Cup.
The other four African qualifiers for Qatar — last-16 losers Senegal and first-round casualties Cameroon, Ghana and Tunisia — will be in Cup of Nations action during March.
Facing the same opposition at home and away, reigning champions Senegal will meet Mozambique, Cameroon come up against Namibia, Ghana take on Angola and Tunisia tackle Libya.
Senegal hope talisman Sadio Mane recovers from knee surgery in time to face the Mozambican Mambas (snakes) after the Bayern Munich forward missed the World Cup.
Tunisia will continue to be coached by Jalel Kadri after the national football federation rejected his wish to resign due to failing to reach the second round in Qatar, though they finished their campaign with a 1-0 win over 2018 champions France.
Kylian Mbappe said he will never get over the disappointment of losing the World Cup final after the France star scored the winner on his return to action for Paris Saint-Germain on Wednesday.
"I think I'm never going to get over it," Mbappe said, speaking 10 days after he scored a hat-trick in the final against Argentina which the South Americans won in a penalty shootout.
Mbappe said he had been through some "difficult times" since the defeat but he showed few signs of the setback in Qatar as he won and converted a 96th-minute penalty to give PSG a last-gasp 2-1 win against Strasbourg on Ligue 1's resumption following the World Cup break.
"As I said to my teammates, there is no reason why the club should pay the price for the failure of the national team, they are two very different situations," 24-year-old Mbappe said.
"It does me good to come back with a win and to have a link with the club, the supporters and my teammates."
By Africanews 
Dutch club PSV Eindhoven announced on Monday having reached an agreement with Liverpool for the transfer of Dutch striker Cody Gakpo.
The 23-year old of Ghanaian origin is the top scorer in the Dutch league and comes off a successful World Cup despite Argentina's quarter-final exit. In Qatar, he scored two goals in five appearances.
Cody Gakpo was coveted by the biggest English clubs, including Manchester United, but the Reds chose to sign him, and will now have to pay almost 50 million euros to partner him with Egyptian Mo Salah.
He will be competing with Uruguayan Darwin Nunez, who was recruited for a record sum of €100m last summer
By Piers Edwards
BBC Sport Africa
An African nation will reach the World Cup final in 2026, Confederation of African Football (Caf) president Patrice Motsepe said on Wednesday as he reflected on the continent's successful campaign in Qatar.
The South African believes Morocco's pioneering run to the 2022 World Cup semi-finals in Qatar has laid groundwork regarding both belief and ambition ahead of the next finals.
"I'm confident that in the next World Cup, an African nation will go further," the 60-year-old said.
"The historic achievements of Morocco have made all of us in Africa uniquely proud. The future of African football is incredibly bright.
"If you look at the talent on the continent, there are 10-15 nations in Africa now that can compete at the highest level in the world and win."
It is a bold claim given that Morocco, fuelled by an incredible 'home' support given the proximity of Qatar to North Africa, are the sole side to have ever contested the semi-finals, out of 54 African visits to the tournament.
However, after Africa's most successful World Cup ever, Motsepe also recalled that the continent has previously won the Olympics – through both Nigeria (1996) and Cameroon (2000).
In Qatar for the finals, Motsepe said he is taking inspiration from Croatia's recent World Cup displays, with the European nation of just under four million having now reached the semi-finals in three of its six World Cups.
"Given a nation of 3.5 million people can compete against Brazil, I'll never accept that an African nation cannot compete at the highest level," said Motsepe as he spoke in his homeland South Africa.
"These are proud moments for football in Africa, and the main objective is an African nation to win the World Cup – we have to believe, and encourage every young boy and girl, because it's not just the men we want to win the World Cup, but also the women."
"We are absolutely confident that the performance at the World Cup will serve as a significant stimulus and accelerator for the very good work taking place in increasing the quality and global competitiveness of African football."
Investment the key for Africa
Motsepe was full of praise for Faouzi Lekjaa, the head of Morocco's football federation, and King Mohamed VI, saying the duo's role in significantly investing in the country's football should inspire Africa.
Yet as he freely admitted, very few of the continent's other countries invest anywhere near the same amount.
"The quality, growth and success of football in any one of the 54 countries is not what it should be," he said. "There are a number of countries in Africa, but sadly not many really invest."
As he has since taking charge in March 2021, Motsepe – Africa's ninth-richest man according to Forbes magazine, with a fortune of just under $3 billion – stressed the importance of the private sector investing in football, and Caf's continuing investment in youth and schools football.
"Johan Cruyff told me to invest in youth football," he said, before hinting at a possibly-short reign as Caf boss.
"Part of my job is to lay a solid foundation. You don't judge leaders exclusively by what they do, but by the continuity, success and progress when they're not there."
Caf-Lagardere row 'resolved'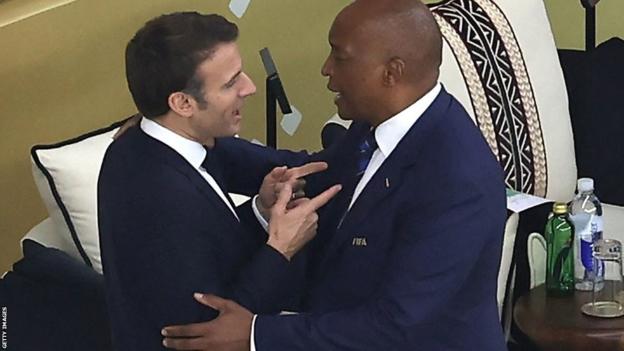 For the first time, Caf officially acknowledged it has settled its affairs with French media company Lagardere (now SportFive) after unilaterally cancelling the biggest broadcasting deal in African football history.
The decision was taken when the African body was jointly run alongside Fifa's Fatma Samoura, with the Secretary General effectively seconded to Caf in a bid to clean up the game.
During this six-month period, which ended when Caf's top officials voted against any extension, the Lagardere deal was cancelled with the lure of better opportunities to come – only for the coronavirus to severely damage such hopes months later.
"We can confirm that the dispute between Caf and Lagardere has been amicably resolved to the satisfaction of both parties," he said.
Motsepe said legal reasons prevent Caf from discussing the deal, with Lagardere having told the BBC the same thing earlier this month.
The settlement fee that Caf must pay Lagardere is $50m, split into two payments of $25m, by the end of 2024, BBC Sport Africa understands.
Both the settlement fee and Lagardere cancellation have further weakened Caf's finances, an issue Motsepe said he would address upon taking charge in March 2021, a day when Caf revealed losses of roughly a third of its cash reserves over the previous financial year.
Motsepe said that he was asked to drop CHAN by some leading Caf officials as it "loses money" – in a further admission of how the Lagardere deal has affected things, given that this tournament was scheduled to bring in $43m as per the now ripped-up contract.
Ever-changing Super League plans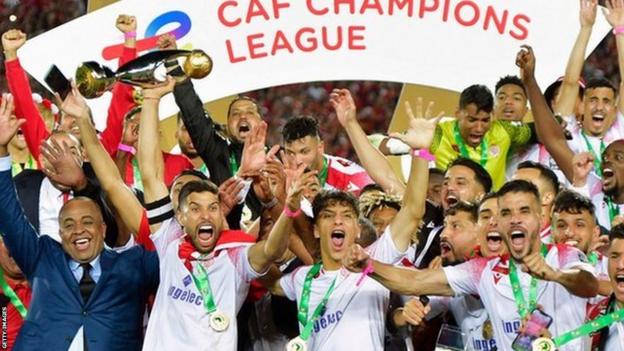 The much-trumpeted African Super League has had little official update since Motsepe said in August that the 24 teams earmarked for the tournament would receive $2.5m to take part.
Three months on, that figure has reduced to $2m – intended for clubs to buy players and afford travel – and a source close to talks says the number of teams could well reduce to just eight.
This is despite Motsepe saying "too many teams" wanted entry, although finances may well be at play again given the repeated talk of interested sponsors – "lots of money is being bandied about" – has yet to be followed up by any concrete announcements.
After an initial announcement that the Super League – which Caf has said is being run in conjunction with Fifa – would be a closed league, Motsepe said there is now likely to be a system of promotion and relegation.
"For us, the African Super League is a very important intervention and we are confident over time it will significantly increase the salaries of players in Africa," he said.
Tens of thousands of Moroccans thronged the capital on Tuesday to welcome home their national football team, the first Arab or African squad ever to reach the semi-final of a World Cup.
The team and their coach Walid Regragui waved from an open-topped bus as they were driven from the airport and around central Rabat, accompanied by dozens of police cars and motorbikes with flashing lights and wailing sirens.
The crowd cheered and some waved flares as fireworks crackled in the sky over the seaside capital, AFP correspondents said.
"I'm so proud of our team. Who knows — maybe next time they could win the cup," said Adam Najah, a 27-year-old waiter from the city of Meknes.
He said he had travelled over 150 kilometres (90 miles) to "experience this historic day" and "celebrate the beautiful story of Morocco at the World Cup".
Many supporters, clad in the team's kits and waving red flags, had waited hours to see their heroes.
"I can't describe my joy! They made us Moroccans, Arabs and Africans proud," said Abdeljabbar Bouroua, 54, as the bus passed through central Rabat.
Morocco finished top of a group including Croatia and Belgium, who came third at the 2018 World Cup, before knocking out Spain and Portugal to reach the last four.
The Atlas Lions lost Saturday's third place play-off 2-1 against 2018 runners-up Croatia, but captured the imagination in Qatar.
"I would have liked to take them in my arms and kiss them," said 19-year-old law student Leila Messour, who came to watch the team with her friends.
"They passed by quickly but we saw them — I haven't been so happy for a long time."
The team later headed to the royal palace, where they were received by King Mohammed VI "in recognition of the historic achievement".
The king, alongside crown prince Moulay Hassan, handed out awards to the president of the Moroccan football federation, the team coach and the players, country's national news agency MAP reported.
The players' mothers also accompanied them to the palace, MAP added, saying it was in recognition of their efforts to "instil in their children the values of patriotism, sacrifice and national belonging".
Three Kenyan athletes have been banned for a collective period of eight years after breaking anti-doping rules.
The Athletics Integrity Unit (AIU) has banned marathon runners Alice Jepkemboi Kimutai and Johnstone Kibet Maiyo for three years, and sprinter Mark Otieno for two.
Otieno, 29, tested positive for the banned anabolic steroid Methasterone moments before the 100m heats at the Tokyo Olympic Games.
It meant he was not allowed to compete.
Otieno, a three-time national 100m champion, will have his ban backdated from the Games and end in July 2023.
The suspension for November's Porto marathon winner Kimutai – who tested positive for the male hormone testosterone – began on 16 November.
Maiyo's ban started on 20 July for returning a positive test for erythropoietin (EPO).
Last month the east African country avoided a sanction by governing body World Athletics – despite having 55 athletes serving suspensions – after committing to spend $25m over the next five years to combat doping.
Kenya's sports minister Ababu Namwamba then announced they intended to criminalize doping in athletics in an attempt to bring an end to a string of cases in the sport.
By Africanews
Moroccan supporters celebrated on Saturday despite losing to Croatia 2-1 in the fight for third place in the World Cup.
The 2022 World Cup in Qatar marks a moment in the history of football as Morocco became the first African semi-finalists in World Cup history.
"We didn't imagine all this, they went to the semi-final and they should have been in the final but no luck! Long live the King and Morocco!", said Morocco supporter Mochine.
Before Qatar, the Atlas Lions had never gone beyond the last 16 stage.
Many Moroccans are optimistic about the future.
"The squad was up to scratch. They fought until the end but luck was not on our side. But no problem, next World Cup we will win the cup and long live Morocco!", shouted Morocco supporter Salima.
Reacting to the loss, Morocco coach, Walid Regragui, said there was a lot for his team to proudly reflect on.
By Rédaction Africanews with AFP
The Moroccan national airline cancelled flights between Casablanca and Doha on Wednesday for fans wishing to attend the World Cup semi-final between Morocco and France, while others who had already arrived in Qatar had not obtained tickets for the match immediately.
"Following the latest restrictions imposed by the Qatari authorities, Royal Air Maroc regrets to inform customers of the cancellation of their flights operated by Qatar Airways," said the RAM in a statement, without detailing the reasons for this cancellation.
The seven cancelled flights impact "2,100 passengers. The 23 other flights operated by RAM are still maintained," a source close to the case told AFP.
In Doha, Moroccan fans on board the first flights of this airlift and met by AFP late Tuesday afternoon had explained that the Moroccan Football Federation had promised them tickets that they did not yet have on arrival.
A message calling on fans "not to go to the two airports (in Doha) until they have obtained tickets for the upcoming matches" was posted Wednesday morning on the Twitter account of Hamad International Airport, where flights from Casablanca arrive.
"We remind fans that Hamad International Airport and Doha Airport are not official sites to get tickets for World Cup matches," the message also specified.
Videos posted on social networks show groups of Moroccan fans blocked by Qatari law enforcement at Hamad airport.
Following the historic qualification of the Atlas Lions in the last four of the World Cup, the Moroccan company had decided to operate 30 special flights Tuesday and Wednesday between Casablanca and Doha.
An unprecedented air bridge that should "allow many Moroccans wishing to support the national team in its epic and live the emotion of the semi-final of the World Cup," explained Monday the RAM.
Since December 2, it is no longer necessary to have a match ticket to enter Qatar but it is still necessary to be granted a Hayya card, which is used as a visa, before departure.