YAOUNDE, CAMEROON — The Cameroon-headquartered Bank of Central African States (BEAC) has urged the Central African Republic (CAR) to annul a law it passed in late April that made the cryptocurrency Bitcoin legal tender. The bank warned in a letter made public last week that the move breached its rules and could affect monetary stability in the region.
BEAC said the CAR's decision to make Bitcoin legal tender could compete with the Central African Franc (CFA), the region's France-backed currency.
A letter from the bank's governor to the CAR's finance minister dated April 29, and made public last week, said the move suggests the CAR wants a currency beyond the bank's control.
The regional bank's letter goes on to suggest using the cryptocurrency could upset monetary stability in the six-member Central African Economic and Monetary Community (CEMAC).
CEMAC members, including the CAR, Cameroon, Chad, Gabon, Equatorial Guinea, and the Republic of Congo, use the CFA Franc as currency.
The bank urged the CAR to comply with CEMAC in promoting economic and financial cooperation and avoiding policies that may lead to monetary fluctuations.
But economists note cryptocurrency is growing in popularity and difficult to control.
Financial Capital economist Willy Delort Heubo said Bitcoin transactions have quadrupled in the region in the past three years.
He said the decision by the CAR to adopt Bitcoin as legal tender is a violation of a community pact signed by the six member states of (CEMAC) to protect the economic block's financial integrity and economic development. However, Heubo said despite the region's policies against making Bitcoin legal tender, it is very difficult to stop cryptocurrency transactions when people agree to use it as a means of payment.
The BEAC has also expressed concern that cryptocurrencies could make it easier for criminals to launder money and sponsor terrorism or rebellions in the region.
The CAR has been in conflict between rebels and central authorities since 2013. Cameroon is fighting separatists, and Chad is fighting a spreading Islamist insurgency.
Last week, Cameroon's Employers Union said armed groups in central African countries use Bitcoin to hide their financial transactions. The union said Cameroon in 2021 reported Bitcoin transactions of $260 million – 40% of them to separatists in western regions.
The central African bank said instead of adopting Bitcoin, the CAR should implement CEMAC monetary policies to reduce endemic poverty.
CEMAC economist and consultant David Kunde said if the CAR does not annul the law on Bitcoin, the bank could punish it.
He said when the CAR or any CEMAC member states want to buy from the international market, they rush to the Bank of Central African States for liquidity for their transactions. Kunde said the Bank could withhold the CAR's reserves if it violates the economic bloc's laws.
The BEAC declined to answer questions from a reporter on what pressure it might use to get the CAR to annul the Bitcoin law.
The Central African franc (CFA) was pegged to the French franc following agreements signed between Cameroon, Chad, the Central African Republic, Equatorial Guinea, Gabon, and the Republic of Congo in 1948.
The CEMAC member states agreed to keep at least half of their financial reserves in the French treasury in return for a convertibility guarantee.
Since 1999, the CFA franc has been pegged to the Euro at about 660 CFA francs to one Euro.
https://www.voanews.com/a/bank-of-central-african-states-urges-car-to-annul-bitcoin-as-currency/6567064.html
By CGTN Africa
According to the latest statistics, Ghana's inflation rate reached 23.6 percent in April, the highest since 2004.
Speaking at a regular press conference, the Government Statistician, Samuel Kobina said that the food inflation increased to 26.6 percent and the non-food inflation increased to 21.3 percent in April.
Providing policy considerations for national and subnational decision-makers, the government statistician revealed that 295 out of the 305 brand items in the inflation basket recorded price increases.
"And 99 of the items recorded higher inflation rates than the national average inflation rate of 23.6 percent," he added.
The Bank of Ghana, which is mandated to ensure price stability, is set to review the economy and make policy decisions in response to the surging inflation later this month.
By XINHUA
Ethiopia's state-owned Ethio-Telecom on Monday evening launched a pre-commercial 5G services trial in the capital Addis Ababa in partnership with Chinese telecom giant Huawei.
Ethiopia's first 5G services, which was launched across six mobile stations in Addis Ababa, is said to be part of the Ethiopian government's digital transformation aspirations.
"We are pleased and honored to launch the world's advanced fifth-generation network. We are committed to seeing a digital Ethiopia, which will uplift our people's overall living conditions," Frehiwot Tamiru, CEO of Ethio-Telecom, said during the launching event.
Tamiru said the 5G network service, characterized by the fastest speed and low latency and massive communication capability that offers service for up to 1 million connections within 1 square km, can unlock blazing fast speeds in more places, real-time responses and massive connectivity.
Tamiru noted that Ethio-Telecom will expand its pre-commercial trial service across the capital and regional cities, reaching up to 150 sites over the coming 12 months.
With high speeds, superior reliability and negligible latency, 5G will impact industries such as critical services requiring real-time decisions, manufacturing plants, remote healthcare, precision agriculture, as well as facilitate the Internet of Things (IoT), said Tamiru.
"This 5G service will provide our customers with best-in-class solutions, improve their experience and allow our enterprise customers to boost productivity, enhance operational efficiency, and introduce new solutions to their customers," Tamiru said.
Ethio-Telecom, which is the sole telecom services provider in Ethiopia so far, said the pre-commercial trial of the 5G service was launched after a temporary 5G Spectrum approval by the Ethiopian Communication Authority while its strategic partner Huawei technologies deployed the 5G network.
Hou Wei, Vice President of Huawei Northern Africa, said as one of Ethio-Telecom's strategic partners, Huawei will keep focusing on cooperating with Ethiopia's state-owned telecom service provider through the provision of state-of-the-art solutions, reliable delivery, fast response and trustable maintenance.
"Huawei has been devoting (itself) to this market for more than 20 years, and we have observed the fast development and great evolution of the telecom industry in this country," he said.
Ethio-Telecom said the full commercialization of the 5G service is dependent on the readiness and demand from the players in the ecosystem, which includes customers' readiness to use the service as well as the availability of 5G-enabled devices and smartphones.
The company, which is recognized as one of Africa's oldest telecom service providers, has more than 60.8 million subscribers, with about 25 million data and Internet users.
As part of its ambition to provide modern telecom service to its users, the company partners with Chinese tech companies, mainly Huawei and ZTE.
The company said it has already expanded 3G and 4G networks throughout the East African nation effectively, achieving 97 percent telecom services coverage while densifying the network and upgrading the earlier technologies to the latest ones.
By XINHUA
Ethiopia attracted 2.43 billion U.S. dollars in Foreign Direct Investment (FDI) in the first nine months of the current Ethiopian Fiscal Year 2021/2022, which started July 8, an Ethiopian official said on Tuesday.
Lelise Neme, Chief Commissioner of the Ethiopia Investment Commission (EIC), said the FDI inflow exceeded that of the same period last year by 18.3 percent.
Neme, however, said the figure is well short of the 3.63 billion U.S. dollars FDI inflow target set for the first nine months of the Fiscal Year 2021/2022, reported state media outlet Ethiopia News Agency (ENA).
"Ethiopia also attracted 118 investors, most of them Chinese investors, in the manufacturing, service and agricultural sector during the first nine months of 2021/2022," Neme said.
The EIC chief further disclosed Ethiopia earned 156.7 million U.S. dollars in export revenues from industrial park products during the first nine months of the 2021/2022 fiscal year.
The industrial parks' export revenues exceeded revenues from that of the same period last year by 27 million U.S. dollars.
In recent years, Ethiopia has embarked on an industrial parks' construction and commissioning activities, as part of a broad economic strategy to make the country a light manufacturing hub in Africa by 2025.
By CGTN Africa
According to the latest data from the Kenya National Bureau of Statistics- KNBS, the Kenyan economy rebounded from COVID-19-led woes in 2020 to grow by 7.5 percent in 2021.
This is the highest rate of growth for the Kenyan economy since 2010 when the gross domestic product (GDP) improved by a record 8.1 percent.
During the year, the economy was largely a beneficiary of low base effects with the reopening of various sectors after the pandemic-led closure lifted activity.
"Relaxation of various COVID-19 containment measures coupled with the roll-out of COVID-19 vaccination had a positive effect on economic activities," KNBS said on Thursday.
As such, all sectors of the economy expect agriculture to post growth across 12 months to December 2021.
Accommodation and food services recorded the highest rate of growth at 52.5 percent from a decline of 47.7 percent in 2020 following the reopening of hotels, bars and restaurants after controlled closures to manage the spread of COVID-19 infections.
The education sector posted the second-highest rate of growth at 21.4 percent from a decline of 9.3 percent in 2020 following the restart of in-person learning in schools and other educational institutions.
Meanwhile, finance and insurance activities expanded at the third-highest rate of 12.5 percent to exceed the 5.9 percent growth rate posted in 2020.
The notable growth for the accommodation and food services sector was backed by a 50.3 percent rise in international visitor arrivals in 2021 following the ease of travel restrictions in and out of the country.
By Jerry Omondi
Kenya's tourism ministry is looking into ways of revamping and increasing tourism offerings across the country's parks and game reserves in order to attract more visitors.
This was revealed by tourism minister Najib Balala after he completed a hike to Mt. Longonot National Park in Naivasha.
Balala said the hike revealed some gaps which could be further explored to ensure more tourists visited the park.
Kenya's tourism industry was hit hard by the impact of COVID-19 pandemic, which disrupted both local and international travel.
For the better part of two years, Kenya was under a partial lockdown and a nationwide nighttime curfew, which made it difficult for potential tourists to visit the country's tourist spots.
Since the lifting of the lockdown and curfew in October, the sector has seen a rebound of tourist numbers.
Balala pointed out that in the case of Mt. Longonot National Park, 60,000 visitors were recorded in the post-COVID-19 period. Since the turn of the year, however, 17,000 visitors have already been received, which indicates that 2022 may record more tourist numbers.
He noted that already, the Hells Gate National Park in Naivasha, now renamed Heaven's Gate National Park, is already being revamped and would be reopened in the next few months.
Kenya is a popular destination for international tourists for its wildlife and rich culture.
JOHANNESBURG, May 8 (Reuters) – The need to secure new sources of metals for the energy transition amid sanctions on top producer Russia has increased the Africa risk appetite for major miners, who have few alternatives to the resource-rich continent.
Companies and investors are considering projects they may have previously overlooked, while governments are also looking to Africa, anxious to ensure their countries can procure enough metals to feed an accelerating net-zero push.
This year's Investing in African Mining Indaba conference, which runs May 9-12 in Cape Town, will see the highest-ranking U.S. government official in years attending, organisers say, as well as representatives from the Japan Oil, Gas and Metals Corporation (JOGMEC), in a sign of rich countries' rising concern about securing supply.
"The reality is that the resources the world wants are typically located in difficult places," said Steven Fox, executive chairman of New York-based political risk consultancy Veracity Worldwide.
The U.S. administration wants to position itself as a strong supporter of battery metals projects in sub-Saharan Africa, he said.
"While Africa presents its challenges, those challenges are no more difficult than the corresponding set of challenges in Canada. It may be easier to actually bring a project to fruition in Africa, than in a place like Canada or the U.S.," he added.
The United States has voiced support for new domestic mines, but projects have stalled. Rio Tinto's (RIO.AX) Resolution copper project, for example, was halted over Native American claims on the land, and conservation issues.
Certainly, the risks of mining in sub-Saharan Africa remain high. The acute security challenge facing mines in the gold-rich Sahel region was highlighted last month when Russia's Nordgold abandoned its Taparko gold mine in Burkina Faso over an increasing threat from militants.
And even in the continent's most industrialised economy, South Africa, deteriorating rail infrastructure is forcing some coal producers to resort to trucking their product to ports.
Yet with Russia's 7% of global nickel supply, 10% of the world's platinum, and 25-30% of the world's palladium off the table, Africa's rich deposits of those metals start looking a lot more attractive.
"As a mining company, there aren't many opportunities and if you are going to grow, you're going to have to look at riskier countries," said George Cheveley, portfolio manager at Ninety One.
"Clearly, after Russia-Ukraine people are more sensitive to geopolitical risk and you cannot predict which projects are going to work out and which are not," he added.
Kabanga Nickel, a project in Tanzania, secured funding from global miner BHP (BHP.AX) in January, and CEO Chris Showalter said it is seeing increased demand from potential offtakers.
Western sanctions on Russia over its invasion of Ukraine are forcing metals supply chains to reconfigure along geopolitical lines, Showalter said.
"Not everyone's going to be able to get clean battery metals from a friendly jurisdiction, so I think some difficult decisions will have to be made, and it is going to force people to make some new decisions about where they want to source.
DAKAR, SENEGAL — The Private Equity & Venture Capital Association (AVCA) says Africa attracted a record $7.4 billion in private capital in 2021, more than double the year before. But while the continent provides ample possibilities for investors, it also presents challenges, from instability to climate change. At this year's AVCA conference in Senegal, investors discussed some of the trends.

More than 500 people from some 50 countries filtered in and out of conference rooms at Dakar's Radisson Hotel Tuesday for Day 2 of AVCA's annual gathering.

Africa offers a rich environment for local and international investors, attendees say, as it has a growing youth population and consumer market.

Alexia Alexandropoulou is a research manager at AVCA. She said investor interest in the continent has been largely driven by the attraction of financial technology companies. A number of sizable infrastructure deals also contributed to investment growth.
"And these infrastructure investments were focused on renewable energy, transportation and communication services. And they support African governments to fill the infrastructure gap on the continent. We expect to see more of these trends continue in the years to come," she noted.

Some African governments such as Senegal's have successfully attracted international investment in recent years. In 2019, it became the second African country to pass a "start-up act," which eases regulations and provides tax breaks to innovative new businesses.

Venture capital activity here comprised 80 percent of total reported deals in 2021, up from 6 percent between 2016 and 2020, according to AVCA. But investing in African companies also comes with challenges, investors say, including currency volatility, small national economies, limited access to finance and banking services and political unrest.
"If you have a long-term view, and if you're well diversified, you can obviously overcome those issues," expressed Walid Cherif, the managing director of BluePeak Private Capital, adding "from [the] outside you read the news, or you think it's scary, it's difficult. But at the end of the day, there's so many opportunities on the ground, so many great businesses. As long as you put the tools in them and give them a lot of assistance and support, you can definitely help them become strong businesses."

Climate change is another major hindrance. Sub-Saharan Africa is expected to suffer disproportionately from extreme weather events such as floods and drought. This is disruptive to businesses, particularly those in the agricultural sector.

Some investors have begun setting climate goals.

Clarisa De Franco is the managing director of British International Investment. Last year, her company set a goal of having 30 percent of their investments dedicated toward addressing climate change.

"They will have to have the specific mandate of addressing climate from a resilience, adaptation or mitigation point of view. How do we achieve that from a new commitment point of view, but also from a portfolio point of view, is something that we need to explore a bit more," De Franco pointed out.

Potential investments might include the renewable energy and plantation sectors, she said.

The AVCA conference continues in Dakar through Friday.
https://www.voanews.com/a/6547341.html
RIYADH, April 19 (Reuters) – The Saudi Cabinet approved an agreement signed with Egypt on investments by the kingdom's Public Investments Fund in Egypt.
The two Arab counties signed an agreement on March 30 to support and encourage investments in Egypt by the Saudi sovereign wealth fund.
JOHANNESBURG — Some of the worst flooding in South Africa's history has left more than 400 people dead and some 40,000 displaced, dealing a devastating blow to the eastern city of Durban, which has a seaport that has also been badly affected.
With the port not fully functioning, there are supply chain concerns and China — South Africa's biggest trading partner — and other nations, are likely to see their imports and exports disrupted.
Earlier this week, South African President Cyril Ramaphosa declared a national state of disaster because of the flooding — which he blames on climate change but which some critics blame on poor infrastructure and the fact that most of the people affected were living in makeshift shacks in informal settlements.
Ramaphosa stressed the importance of quickly fixing the situation at the port, saying, "The Port of Durban — which is one of the largest and busiest shipping terminals on the continent and which is vital to our country's economy — has been severely affected."
The road to the port, which handles some 13,000 heavy vehicles a day, has been severely damaged, he added.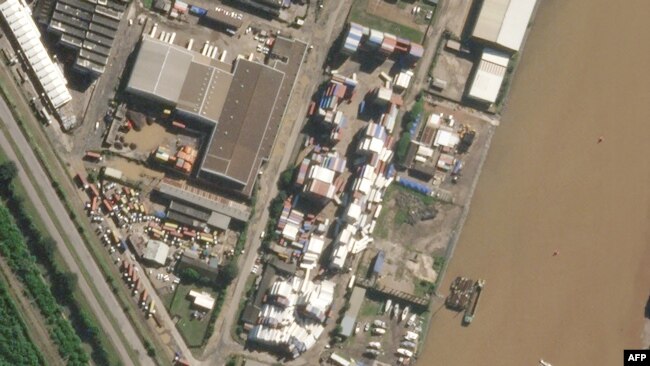 On Tuesday, Public Enterprises Minister Pravin Gordhan Pravin Gordhan visited the port, which has reopened, and concluded it would take more a week to clear some backlogs. The rail network to the site had been affected by landslides and still needs to be repaired, he said, adding that 9,000 containers have accumulated at the port and would be cleared in the next nine days.
Logs and debris also ended up in the harbor due to the floods, which he said had disrupted shipping.
One of the countries likely to be affected by problems at the port is China, said Cobus van Staden, senior China-Africa researcher at the South African Institute of International Affairs.
"In relation to the situation in Durban, it's very serious for the whole of China-Africa trade, rather than just for South Africa; this is because of the centrality of Durban port to Chinese exports," he told VOA.
"About 20 percent of total China-Africa trade goes out through Durban and this includes resources like cobalt, copper and lithium coming from the Democratic Republic of Congo and Zimbabwe particularly," he added.
Maersk, the world's biggest container line, halted operations at the port last week and told VOA by email its warehouse had been affected and was still not operational. While vessel operations had resumed, the company said problems with road access were affecting all cargo entering or leaving the terminal.
"We continue to assess the damages and monitor the situation as it evolves, customers are being updated daily on the progress and the contingency plans so that we may get the supply chains moving again as quickly as possible," it said.
Wandile Sihlobo, chief economist for the Agricultural Business Chamber of South Africa, told VOA he thought it would take some time before activities at the port were back to normal.
"There's been great devastation by these excessive rains and it's a major risk to commerce and all goods: automobile, agriculture and other sectors of the economy that are dependent on trade," he said.