DAKAR, SENEGAL — The Private Equity & Venture Capital Association (AVCA) says Africa attracted a record $7.4 billion in private capital in 2021, more than double the year before. But while the continent provides ample possibilities for investors, it also presents challenges, from instability to climate change. At this year's AVCA conference in Senegal, investors discussed some of the trends.

More than 500 people from some 50 countries filtered in and out of conference rooms at Dakar's Radisson Hotel Tuesday for Day 2 of AVCA's annual gathering.

Africa offers a rich environment for local and international investors, attendees say, as it has a growing youth population and consumer market.

Alexia Alexandropoulou is a research manager at AVCA. She said investor interest in the continent has been largely driven by the attraction of financial technology companies. A number of sizable infrastructure deals also contributed to investment growth.
"And these infrastructure investments were focused on renewable energy, transportation and communication services. And they support African governments to fill the infrastructure gap on the continent. We expect to see more of these trends continue in the years to come," she noted.

Some African governments such as Senegal's have successfully attracted international investment in recent years. In 2019, it became the second African country to pass a "start-up act," which eases regulations and provides tax breaks to innovative new businesses.

Venture capital activity here comprised 80 percent of total reported deals in 2021, up from 6 percent between 2016 and 2020, according to AVCA. But investing in African companies also comes with challenges, investors say, including currency volatility, small national economies, limited access to finance and banking services and political unrest.
"If you have a long-term view, and if you're well diversified, you can obviously overcome those issues," expressed Walid Cherif, the managing director of BluePeak Private Capital, adding "from [the] outside you read the news, or you think it's scary, it's difficult. But at the end of the day, there's so many opportunities on the ground, so many great businesses. As long as you put the tools in them and give them a lot of assistance and support, you can definitely help them become strong businesses."

Climate change is another major hindrance. Sub-Saharan Africa is expected to suffer disproportionately from extreme weather events such as floods and drought. This is disruptive to businesses, particularly those in the agricultural sector.

Some investors have begun setting climate goals.

Clarisa De Franco is the managing director of British International Investment. Last year, her company set a goal of having 30 percent of their investments dedicated toward addressing climate change.

"They will have to have the specific mandate of addressing climate from a resilience, adaptation or mitigation point of view. How do we achieve that from a new commitment point of view, but also from a portfolio point of view, is something that we need to explore a bit more," De Franco pointed out.

Potential investments might include the renewable energy and plantation sectors, she said.

The AVCA conference continues in Dakar through Friday.
https://www.voanews.com/a/6547341.html
RIYADH, April 19 (Reuters) – The Saudi Cabinet approved an agreement signed with Egypt on investments by the kingdom's Public Investments Fund in Egypt.
The two Arab counties signed an agreement on March 30 to support and encourage investments in Egypt by the Saudi sovereign wealth fund.
JOHANNESBURG — Some of the worst flooding in South Africa's history has left more than 400 people dead and some 40,000 displaced, dealing a devastating blow to the eastern city of Durban, which has a seaport that has also been badly affected.
With the port not fully functioning, there are supply chain concerns and China — South Africa's biggest trading partner — and other nations, are likely to see their imports and exports disrupted.
Earlier this week, South African President Cyril Ramaphosa declared a national state of disaster because of the flooding — which he blames on climate change but which some critics blame on poor infrastructure and the fact that most of the people affected were living in makeshift shacks in informal settlements.
Ramaphosa stressed the importance of quickly fixing the situation at the port, saying, "The Port of Durban — which is one of the largest and busiest shipping terminals on the continent and which is vital to our country's economy — has been severely affected."
The road to the port, which handles some 13,000 heavy vehicles a day, has been severely damaged, he added.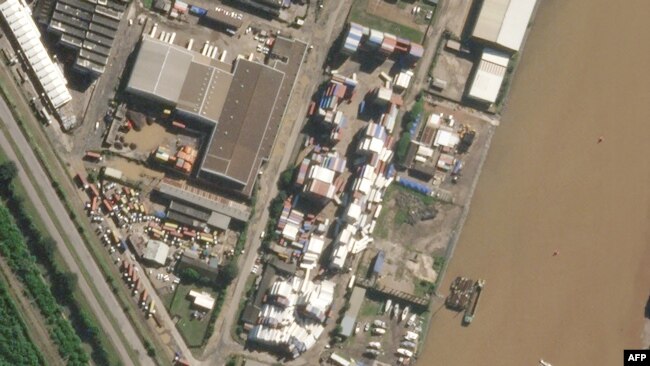 On Tuesday, Public Enterprises Minister Pravin Gordhan Pravin Gordhan visited the port, which has reopened, and concluded it would take more a week to clear some backlogs. The rail network to the site had been affected by landslides and still needs to be repaired, he said, adding that 9,000 containers have accumulated at the port and would be cleared in the next nine days.
Logs and debris also ended up in the harbor due to the floods, which he said had disrupted shipping.
One of the countries likely to be affected by problems at the port is China, said Cobus van Staden, senior China-Africa researcher at the South African Institute of International Affairs.
"In relation to the situation in Durban, it's very serious for the whole of China-Africa trade, rather than just for South Africa; this is because of the centrality of Durban port to Chinese exports," he told VOA.
"About 20 percent of total China-Africa trade goes out through Durban and this includes resources like cobalt, copper and lithium coming from the Democratic Republic of Congo and Zimbabwe particularly," he added.
Maersk, the world's biggest container line, halted operations at the port last week and told VOA by email its warehouse had been affected and was still not operational. While vessel operations had resumed, the company said problems with road access were affecting all cargo entering or leaving the terminal.
"We continue to assess the damages and monitor the situation as it evolves, customers are being updated daily on the progress and the contingency plans so that we may get the supply chains moving again as quickly as possible," it said.
Wandile Sihlobo, chief economist for the Agricultural Business Chamber of South Africa, told VOA he thought it would take some time before activities at the port were back to normal.
"There's been great devastation by these excessive rains and it's a major risk to commerce and all goods: automobile, agriculture and other sectors of the economy that are dependent on trade," he said.
By Patrick Werr
Egypt's economy will grow 5.3% in the fiscal year ending in June but the pace will ease to 5.2% in 2022/23 and 5.0% in 2023/24 as tourism falls and commodity prices and interest rates rise, a Reuters poll showed on Thursday.
The planning ministry in November expected growth to reach 5.6% this fiscal year, and the finance ministry said in January it was aiming for 5.7% growth in its 2022/23 fiscal year draft budget. 
But last month the planning ministry lowered its real gross domestic product (GDP) growth target for 2022/23 to 5.5%, citing the effects of the Russia-Ukraine conflict.
A Reuters poll three months ago had forecast 2021/22 growth of 5.2%.
One of the world's top wheat importers, Egypt imported most of its grain from Russia and Ukraine, which also supplied a large number of its tourists.
Meanwhile, the Russian invasion prompted investors to pull billions of dollars out of Egypt's treasury market.
"Prolonged high food and fuel prices may restrict consumer spending. Significant loss of tourism from Europe and Russia may dampen economic growth. Rising interest rates may curtail investment," said Garbis Iradian of the Institute of International Finance (IIF).
Tourism was devastated by the COVID-19 pandemic, with revenue plummeting to $4.9 billion in 2020/21 from $9.9 billion a year earlier. It bounced back to $5.8 billion in July-December 2021. 
In the latest Reuters poll, economists expected annual urban consumer price inflation of 8.2% in 2021/22, 9.8% in 2022/23 and 7.6% in 2023/24.
Egypt's inflation accelerated in March to 10.5%, its highest in nearly three years, caused in part by commodity shortages after the Ukraine crisis, data from the state statistics agency CAPMAS showed. The central bank's inflation target range is from 5% to 9%.
"We expect that the rise in commodity prices will be temporary and a recovery should happen in FY24," said Pascal Devaux of BNP Paribas.
Egypt's currency will remain relatively steady at 18.35 pounds per dollar by the end of 2022, the April 11-20 poll of 19 economists showed. The central bank on March 21 allowed the currency to weaken to around 18.45 to the dollar from its previous level of 15.70.
Economists expect the pound to weaken to 18.89 by the end of 2023 and to 18.95 by end-2024.
The central bank is expected to raise its overnight lending rate to 10.75% from June versus 10.25% now, then increase it to 11.25% by end-June 2023 before cutting it to 10.75% by end-June 2024, the poll found.
African start-ups attracted a record $5.2 billion in venture capital last year, bouncing back from a pandemic-induced dip in 2020 with a nearly five-fold increase in investments, according to data released by an industry group on Tuesday.
The success of companies like Nigeria's Paystack, acquired in 2020 by U.S. payments firm Stripe, and fellow fintech Flutterwave, valued at over $3 billion, has fuelled international interest in up-and-coming businesses on the continent.
"African startups raised more in 2021 alone than the preceding seven years combined," the African Private Equity and Venture Capital Association (AVCA), which promotes private investment on the continent, wrote in a report.
Much of the investor focus has been on fintech start-ups seeking to meet the needs of the continent's largely unbanked population. The data compiled by AVCA showed the financial sector accounted for 60% of the investments by value and nearly a third of deals by volume.
Nigeria, a hotbed of new fintech firms, was the leading destination for venture capital in Africa last year, surpassing South Africa, the continent's most developed economy.
Most venture capital deals were concentrated in early-stage funding rounds. However, late-stage funding ballooned in 2021, including a nearly 40-fold increase in financing raised by Series C fundraising rounds.
Fintechs Chipper Cash, MFS Africa, Yoco, and OPay together raised $833 million via Series C funding rounds.
While deals of less than $1 million represented nearly a third of transactions by volume, those worth over $50 million accounted for 62% of the total value of venture capital financing in Africa last year.
Capitec Bank (CPIJ.J) reported an 84% rise in its annual profit on Tuesday, joining a slew of South African lenders who benefited from an upswing in performance as the impact from the COVID-19 fallout eases.
South African banks took massive hits to their profit in recent years, mainly due to large credit impairment charges related to the health crisis and associated government lockdowns. Lenders are now returning to pre-pandemic levels of performance as restrictions ease.
Profit at Capitec, the country's largest retail bank by customer numbers, surpassed 2019 levels in the year ended Feb. 28. Its headline earnings per share – the main profit measure in South Africa – stood at 7,300 cents, in the middle of its forecast range.
That compared with 3,966 cents a year earlier, 5,428 cents in 2019.
However, Capitec did maintain its forward-looking credit provision, held for possible bad debts linked to the economic environment, at almost the same level as last year: 3 billion rand ($206.17 million).
Chief Executive Officer Gerrie Fourie said apart from COVID-19 crisis, consumers were also under stress from high fuel prices and rapid inflation, while the Ukraine war and lockdowns in China – a key part of many industries' supply chains – brought further uncertainty.
Capitec, which has historically attracted lower-income clients and is therefore seen as more vulnerable to downturns in the economy than its competitors, has been trying to shift towards higher earners.
This was beginning to show, Fourie said, with the bank seeing fewer cash-stressed clients, who have very little left over after all of their outgoing costs, in the book.
It has also stopped offering very high interest, short-term loans of up to six months, and 52% of its credit lines were now going to higher earners than previously.
"Our book has swung away … We can see the growth in our high income clients coming through," he said.
($1 = 14.5511 rand)
The South African rand firmed on Tuesday, boosted by strong commodity prices and confidence in the local economy, and ignoring the expected U.S. inflation data that could lend support to the Federal Reserve's aggressive policy stance.
Investors also brushed aside comments from the South African Reserve Bank (SARB) that surging inflation could derail local economic recovery.
At 1545 GMT, the rand was trading at around 14.4852 against the dollar, half a percent stronger than its previous close.
U.S. inflation data is expected to show prices last month gained the most in more than 16 years, a Reuters poll of economists found, as the war in Ukraine drove gasoline prices to record highs.
The SARB, in its biannual review of its monetary policy stance, said increased price pressures could threaten South Africa's economic recovery.
Local lender Nedbank Group (NEDJ.J) said the central bank did not provide any new information. Instead, it maintained its March view when it indicated that "growth is recovering albeit slowly and there are greater risks to inflation since end-Feb, which overall makes for a more hawkish narrative".
The SARB hiked its main lending rate last month, citing risks to the inflation outlook from the war in Ukraine.
Shares on the Johannesburg Stock Exchange (JSE) slipped further into the red for a second consecutive day as equity traders continued to worry about the expected U.S. inflation numbers, analysts said.
"Everyone is worried about inflation. It is just weighing down on the market," said Wayne McCurrie, portfolio manager with FNB.
Although investors and analysts have anticipated higher inflation and interest rates for some time, "the market has still not fully digested the extent of it".
The benchmark all-share index (.JALSH) ended down 0.84% at 73,802 points and the blue-chip index of top 40 companies (.JTOPI) fell 0.93% to 66,780 points.
In fixed income, the yield on the benchmark government bond due in 2030 was down 2 basis points to 9.625%.
Over the last one Month the Port of Mombasa has handled over 10 feeder Ships transshipping Port of Dar es Salaam containers advancing her opportunities for a regional transshipment hub. MSc Shipping Line, the second top on the world's liner rankings has confirmed using the port of Mombasa until the situation normalizes in Dar es Salaam. Others include CMA CGM and Maersk Shipping Lines.
Statistics from Kenya Ports Authority indicate that at the beginning of this month 7894 Twenty Feet Equivalent Units (TEUS) transshipment to Dar es Salaam landed at the port of Mombasa to await nomination for second carriers to the ports of Dar es Salaam and Zanzibar. It is official that there has been a noticeable growth in transshipment volumes by an average of 2.5 percent in the last one Month.
KPA General Manager Operations Mr. Sudi Mwasinago has confirmed that amongst the Shipping Lines discharging transshipments at the Port of Mombasa for Dar es Salaam , MSC accounts for 75 percent of the total transshipment volumes while CMA CGM and Maersk accounted for 24 percent and 9 percent respectively.
He said following the significant rise in transshipment business, MSc increased to three 3 feeder services to Mombasa, on a weekly basis service. This resulted in the deployment to the route of MSc Hina feeder service to be loading to Dar Es Salaam, and MSc Judith Mirembe feeder service to be loading to Zanzibar.
On the other hand, CMA CGM vessels transshipping containers from Mombasa to Dar es Salaam are Mv. Laura and Mv. Cis-Leele while Maersk Shipping line has Mv. Nicie-E.
Mr. Mwasinago said that the delay of the MSc vessels at the port of Dar es Salaam means that more traffic is diverted to the Port of Mombasa .However , he says this has come with a host of housekeeping demands for accommodation of the rising volumes.
Residents in parts of southern Angola will no longer suffer the effects of drought thanks to a landmark drought relief project built by China-based construction company, PowerChina.
The drought relief project in Cunene Province, launched in 2019, and commissioned on April 4th by President Joao Lourenço, is the first major livelihood project since he assumed office in September 2017.
The 150-kilometer channel will greatly promote the development of agriculture and animal husbandry in Cunene Province and improve people's livelihoods and living standards. Close to 250,000 people are expected to benefit from it, while hundreds of thousands of livestock will have drinking water and irrigation will be possible for an estimated 5,000 hectares of arable land.
Lourenço, flanked by a delegation that included senior government ministers, personally kicked off the project by starting a water pump. He praised PowerChina for the high quality of the project, calling it a "great gift" to the people of Cunene.
Lourenço also pledged continued efforts to reduce the impact of drought in Cunene, Namibe and Huila provinces, which are among the worst affected regions by drought in the southern African nation.
The project is expected to create more than 3,000 jobs for locals.
Li Xunfeng, the general manager of the Angola Representative Office of PowerChina Construction, said the project, which had overcome many difficulties, will bring new hope to residents along the channel.
By XINHUA
Zambian Vice President Mutale Nalumango says he is happy at the increased levels of Chinese investment in the southern African nation.
The vice president said it was gratifying that the levels of investment by Chinese enterprises have continued to increase in various sectors such as mining, agriculture and manufacturing.
In remarks delivered on Wednesday during the launch of the Chinese Chambers of Commerce in Zambia, the vice president said the increase in Chinese investment was strengthening the bilateral and business relationship between the two countries.
She encouraged the organization to get involved in mobilizing more Chinese investment into the southern African nation as well as supporting existing enterprises to expand their businesses.
Li Tie, the president of the Chinese Chambers of Commerce in Zambia, expressed confidence that more investment from China will continue coming to Zambia because of the enabling environment created by the government.
Zambia has seen an increase in Chinese investment, with the country ranking first for Chinese investment destination in Africa last year for three consecutive years, according to the figures provided by the Chinese embassy in Zambia.