By Rebecca Trenner, CNN
Johannesburg, South AfricaCNN — Car crashes, opportunistic criminals, rotting food, decomposing bodies, bankrupt businesses, and water shortages. Welcome to life under South Africa's power blackouts.
Last week the grim extent of the outages was laid bare when South Africans were advised to bury dead loved ones within four days.
In a public statement, the South African Funeral Practitioners Association warned that bodies in mortuaries were rapidly decomposing because of the unrelenting electricity outages, putting huge pressure on funeral parlors struggling to process corpses.
The situation is so bad that the country's President Cyril Ramaphosa is considering declaring a national disaster, similar to one in 2020 at the height of the Covid pandemic, which had a devastating effect on the country's economy.
Last week scores of supporters from the Democratic Alliance opposition party marched under heavy security through the streets of Johannesburg and Cape Town to voice their frustrations over the persistent blackouts.
A difference between life and death
Known locally as loadshedding, widespread electricity blackouts are carried out multiple times a day by state-owned energy utility Eskom to avoid the total collapse of the grid.
Shortages on the electricity system unbalance the network, and Eskom has stated that controlled outages are necessary to ensure reserve margins are maintained, and the system remains stable.
While the country has been experiencing on-off power outages for years, since September 2022 scheduled blackouts have become routine, affecting every part of South African society.
For some people, not having access to reliable power can be the difference between life and death.
Before she died in October 2022, Lis Van Os needed oxygen for 17 hours a day. Her stationary oxygen machine required mains power, making periods of loadshedding extremely stressful, particularly when power did not return as scheduled, her family said.
Her daughter Karin McDonald was forced to explore backup options such as inverters and a back up oxygen mobile tank, which only lasted short periods.
"Towards the end (of her life) power outages created a lot of anxiety for everyone," she said.
'A pool of misery'
South Africans experienced more than twice as many power cuts in 2022 than in any other year. And things are set to get worse in 2023.
Even simple daily tasks need to be arranged around loadshedding schedules, including meal planning, travel times, work that requires internet connectivity.
From preparing baby formula to keeping fans running during the summer heat, not having access to mains power is makes daily life challenging for South Africans.
Maneo Motsamai, a domestic worker in Johannesburg, says the outages prevents her from simple tasks such as cooking.
"I boil water to cook mealie meal (maize porridge) and the power goes. I can't eat, it's a waste. I can't cope like that," Motsamai told CNN.
Pump stations can't provide water and many small businesses without access to backup power are having to close shop and lay off employees, according to people CNN spoke to.
Thando Makhubu runs Soweto Creamery, an ice cream shop in Jabulani, Soweto, on the outskirts of Johannesburg. His family pooled small welfare grants they received during the Covid-19 pandemic to set up the business, but are now feeling the pressure from power outages.
In early January, the shop was without power for 72 hours, when electricity did not return as scheduled. Thando was forced to shell out money for diesel to power their generator and prevent all his stock melting. He says the outages are costly and destroying their hopes of expanding.
Bongi Monjanaga, who runs a startup cleaning services company operating across Johannesburg, says the outages affect every part of her fledgling business, such as operating electric cleaning equipment, entering and leaving premises when security gates aren't functioning, and having internet to invoice clients and complete online tax compliance documents.
"I find myself in this pool of misery when I'm just trying to start up. I'm just trying to grow," she says.
Dead chickens, food shortages, higher prices
The escalation of power outages is also deeply worrying for South Africa's food security, driving up prices, and placing an even greater strain on stretched household budgets.
With modern farming practices ever more reliant on electricity for crop irrigation, processing, and storage, loadshedding is having a huge impact on agricultural output.
Gys Olivier, a farmer from Hertzogville in Free State province, in east-central South Africa, says he and other farmers in the area have been forced to throw away hundreds of thousands of dollars worth of seed potatoes due to disruptions to the 'cold chain' – (the process of keeping produce refrigerated throughout the supply chain.)
There is also less demand from growers due to water shortages, with pump stations reliant on electricity to operate.
"We have done everything we can to make sure there is food on the table for a very good price, but it's become so capital-intensive to farm," Olivier says.
Meanwhile livestock and poultry are dying before they even get to the slaughterhouse.
A gruesome video circulating on social media shows workers removing 50,000 dead broiler chickens from a farm in North West province, the birds suffocated when power outages caused ventilation systems to stop. The financial damage to the farmer was around ZAR1.6m ($93,300) according to local media reports.
A crime 'pandemic'
South Africa is notorious for high crime rates, and loadshedding is making it worse as home security systems fail when the power goes out, giving criminals a field day inside unsecured properties.
Policing also becomes harder, with officers unable to reach crime scenes fast enough due to congestion when traffic lights are off.
Tumelo Mogodiseng, General Secretary of the South African Policing Union (SAPU), describes the load-shedding as "a pandemic."
He says his members' lives are now more at risk, with officers unable to see potentially dangerous situations in the darkness, and police stations, many of which don't have backup power systems, at risk of attack from criminals during blackouts.
"Police are dying every day in this country. If this is happening in the daylight, what happens when there is no light for them to see at night?"
Mogodiseng also worries that crimes are going unreported, with citizens fearful of leaving their houses during outages and traveling in the darkness. "Communities won't travel to police stations to open cases because they are afraid," he told CNN.
Gareth Newham, who runs the Justice and Violence Prevention Programme at the Institute for Security Studies (ISS) in Pretoria, says that it's hard to get solid data on the impact outages are having on crime. While anecdotal evidence suggests criminals are exploiting outages, the recent escalation of loadshedding has coincided with the Christmas holidays, when crime rates typically spike.
His biggest concern is that continued loadshedding or a temporary grid collapse could lead to a repeat of the coordinated civil unrest, rioting, and looting in parts of South Africa's KwaZulu-Natal and Gauteng provinces 18 months ago.
"A complete breakdown in the grid could be the trigger for local level gangs getting more power, and we could see a similar kind of violence to that we saw in July 2021."
Eskom: The Roots of a Crisis
Under the ruling African National Congress (ANC), in charge since 1994, Eskom has become synonymous with corruption, crime, and mismanagement.
Last year a judge-led inquiry into graft under the former president, Jacob Zuma, found that there were grounds to prosecute several former Eskom executives.
The government has failed to build new power stations to keep up with increased demand, and warnings from energy experts on looming supply shortages across the past two decades have gone ignored.
A 2019 report by the South African Institution of Civil Engineering shows skilled engineers have been leaving the country in droves.
Despite spending billions of USD on two huge coal power stations, neither works properly.
Older plants are dilapidated due to a lack of maintenance, and organized crime steals vital coal supplies and cable from the rail lines going from mines to power stations.
Renewable energy companies say they are desperate to supply to the grid, but the government has been slow to cut red tape and streamline regulatory processes that would reduce the time frame for environmental authorisations, registration of new projects and grid connection approvals.
Legal challenges against the government and Eskom are stacking up. Several political parties and trade unions say they will take the government and state utility to court for not upholding their duty to provide electricity.
Adjusting to life in the dark
With no end in sight to the outages, South Africans are desperate for alternative energy sources, but even they are out of the reach of many citizens.
Thando Makhubu says he was shocked by the cost to power his ice cream business off-grid. "We were quoted R100,000 ($5,945) and that excluded the solar panels."
Karin McDonald, who runs a swimming school, similarly found the upfront costs of solar prohibitive. "We received quotes for solar for the business and house and were not looking at anything less than half a million rand ($29,500) which is a major life decision to make," she said.
There is also a long wait for solar. "I know a solar provider that had 40 requests just last week, all for big solar projects, " said Angus Williamson, a cattle farmer from KwaZulu-Natal province.
As they come to terms with their new reality, many South Africans are finding it hard to stay optimistic.
"The light at the end of the tunnel is a train heading in our direction," said Williamson.
The first US Cabinet member to visit Somalia since 2015 urged the world's distracted donors Sunday to give immediate help to a country facing deadly famine, which she calls "the ultimate failure of the international community."
The US ambassador to the United Nations, Linda Thomas-Greenfield, heard perhaps the starkest warning yet about the crisis: Excess deaths during what is now Somalia's longest drought on record will "almost certainly" surpass those of the famine formally declared in the country in 2011, when more than a quarter-million people died.
This time, the world is looking elsewhere, many humanitarian officials say.
"Many of the traditional donors have washed their hands and focused on Ukraine," the UN resident coordinator in Somalia, Adam Abdelmoula, told Thomas-Greenfield during a briefing in Mogadishu.
While the US ambassador declined to openly "name and shame" in her speech calling on donors for more help, saying "The countries know who we're talking about," the UN resident coordinator didn't hesitate.
The European Union, for example, funded just 10% of the humanitarian response plan for Somalia last year, Abdelmoula told The Associated Press.
The EU gave $74 million and the U.K. $78 million, according to UN data. Japan gave $27 million and Saudi Arabia $22 million.
The United States, meanwhile, funded roughly 80%, giving $1.3 billion to Somalia since the start of the 2022 fiscal year. The ambassador announced another $40 million on Sunday.
But the US "can't continue to pay at that level, even if there were no Ukraine," Thomas-Greenfield told the AP in an interview, adding that Washington would like to see countries in the nearby Gulf region, for example, donate more.
She spelled out the fatal risks in the weeks ahead if other nations don't step up. "According to the UN, without contributions from other donors, critical food and nutrition assistance supporting 4.6 million people in Somalia will end" by April, Thomas-Greenfield said.
That will be just as a sixth consecutive rainy season in the parched country is expected to fail. The US is "deeply alarmed" by the dire situation, she told humanitarian officials.
The ambassador delivered her speech in the seaside diplomatic compound at Mogadishu's international airport, where bunker-bound officials try to respond to the growing crisis compounded by the security threat posed to large parts of Somalia from al-Qaida's East Africa affiliate, al-Shabab.
Tens of thousands of people are thought to have died in the drought that also affects parts of neighboring Ethiopia and Kenya.
More than a half-million children under the age of 5 in Somalia alone have severe acute malnutrition, according to the UN children's agency.
Millions of livestock essential to families' health and wealth have died.
While the latest data assessment released last year found that Somalia had not met the benchmarks for a formal famine declaration, the UN and US have made clear that the limited humanitarian aid has only delayed the worst.
Almost 2 million hungry people in Somalia are at the crisis point where "bodies start to consume themselves," a Western humanitarian official said, speaking on condition of anonymity because they were not authorized to speak publicly.
There are now 2.7 million more people in need than during Somalia's last famine in 2011, the official added.
About 900,000 of them have been living in areas under control of the al-Shabab extremists, complicating efforts both to understand the drought's toll and to reach people with help.
But the death toll from the drought remains unclear even as fears grow. "I don't think any of us know the number," Thomas-Greenfield said.
The last Cabinet member to visit Somalia was John Kerry as secretary of state in May 2015.
The Department of Health (DOH) says it is in consultation with scientists over a highly transmissible variant of the Covid-19 virus.
This after media reports over the weekend said the country had found its first case of the variant.
"[The department] has been alerted about this highly transmissible XBB.1.5 variant and is currently in discussions with the scientists to gather more information, including its transmissibility and severity. Thus, an official communication will be made in due course.
"In the meantime, [the department] is appealing to everyone to vaccinate, get boosters, wear your masks, keep the distance, avoid overcrowded places and wash your hands," the department said.
By last week Monday, some 38,261,917 vaccines had been administered in the country, with more than 19 million people being fully vaccinated.
The last update by the department in December indicated that the cumulative number of Covid-19 cases had crossed 4 million, with over 3.9 million recoveries at a recovery rate of 97.2%.
Earlier this month, the department called for calm following an increase in the number of infections in China.
"[The department] is closely monitoring the Covid-19 situation in China and other parts of the world and will issue an alert if the country needs to take extra precautions. There is no need for panic. We urge people to vaccinate and get booster shots to enhance their immunity," the department said.
The health department said it's not yet able to confirm a case of a highly-transmissible subvariant of Covid-19.
The first case was reported in a series of tweets by Covid-19 scientist Prof Tulio de Oliveira.
The department has said it is investigating the claim but is yet to receive a patient profile.
---
Claims that South Africa has recorded its first case of a highly-transmissible subvariant of the Covid-19 virus are under investigation by the Department of Health. However, until it has more information, the department cannot confirm if a case has been recorded.
Health department spokesperson Foster Mohale said the announcement had originated within the scientific community and not from the department. He added that the department has yet to receive any information on the patient profile, including age, gender and the province in which they were tested.
"It's very difficult to confirm a case without the patient profile. We don't want to dismiss that there is a case, but we need more information before we can make a formal public announcement," he said.
Mohale urged the public to remain calm but urged them to be vigilant and vaccinate.
In a series of tweets, Prof Tulio de Oliveira, Professor of Bioinformatics at the School for Data Science and Computational Thinking at Stellenbosch University, said the first case of the XBB.1.5 subvariant had been identified on Friday by Stellenbosch University and the Network for Genomics Surveillance in South Africa.
De Oliveira added that the case had been recorded in the Western Cape, which was "not surprising, given the number of international tourists". He added that the subvariant is "still Omicron and SA has good population immunity".
De Oliveira was not available for further comment at the time of publication.
Western Cape Department of Health's chief of operations Dr Saadiq Kariem said the department would be monitoring the emergence of the new sub-variant "very closely".
"Thus far we have not detected any increase in cases, hospitalisations, admissions, or deaths," said Kariem.
By Karabo Rammutla
The Department of Health says that a widely shared social media post, purportedly by the Ministry of Health, calling for the return of face masks, is fake.
The fake post instructed all members of the public to return to wearing face masks in public places in the wake of an apparent detection of a new variant of Covid-19, XBB 1.5.
However, the department has confirmed that any cases of the new variant, a subvariant of Omicron, have been detected.
XBB 1.5 has spread rapidly across the US and is believed to be the most transmissible subvariant of Omicron. It is likely to spread globally.
Experts say that there is no reason to think that XBB 1.5 should be of more concern than other variants. They also say that vaccinations and booster shots remain the greatest protection against Covid-19.
On Saturday the health department tweeted that it had been alerted about the highly transmissible variant and is currently in discussions with scientists to gather more information, including its transmissibility and severity.
The message on social media which the department called misleading indicated the new variant was more dangerous than earlier versions, that sometimes there were no symptoms and that a range of practices, including the wearing of masks, would be necessary.
Spokesperson Foster Mohale said they would like to dismiss the earlier reports as fake news by "faceless sources whose sole intention is to create unnecessary panic".
"The fact of the matter is, the World Health Organization (WHO) issued a notification [in October 2022] on the Omicron sublineages BQ.1 and XBB detected around the world as part of ongoing work to track variants by Technical Advisory Group on SARS-CoV-2 Virus Evolution (TAG-VE)," he said.
Mohale said the role of the TAG-VE is to alert WHO if a variant that can cause a more severe disease or lead to large epidemic waves causing an increased burden to the healthcare system is emerging and likely to pose a significant threat.
"At the current moment, there is no epidemiological evidence that these sublineages will be of substantially greater risk compared to other Omicron sublineages," he said.
He added however that the department, working with the National Institute for Communicable Diseases and other scientists, continues to monitor all Covid-19 lineages, and appeals to South Africans to continue to be vigilant.
"The known Covid-19 virus variants are still in circulation, and we are not off the hook from the pandemic. Hence people are urged to vaccinate and take booster shots that they qualify for, to enhance their level of immunity," he said
By CGTN –
The first flights under China's new "no quarantine" rules for international travelers landed at airports in Guangzhou and Shenzhen in southern Guangdong Province early on Sunday morning, the national customs authority said.
Officials said 387 passengers were aboard two flights from Toronto and Singapore on the day the country ended its strict COVID-19 restrictions for travelers.
They said the flights arrived just after midnight, and all passengers had completed customs clearance procedures by 1:32 a.m.
Noting the COVID-19 prevention and control measures have been proactively improved, Yu Jianhua, director of General Administration of Customs, stressed that it's necessary to implement the optimization and adjustment work of customs in a steady and orderly manner.
Yu added customs authorities should maintain the emergency response capacity and do a good job in epidemic prevention and control to continue building a quarantine defense line at ports.
On the same day, the Hong Kong Special Administrative Region resumed cross-border travel with the Chinese mainland. Many other Chinese borders also saw cross-border travels.
In Jiegao, a border community in Ruili City, southwest China's Yunnan Province, a businessman, who imports and exports grain from Ruili, told CGTN that he was waiting to go to Myanmar. Ruili City had experienced multiple lockdowns due to COVID-19.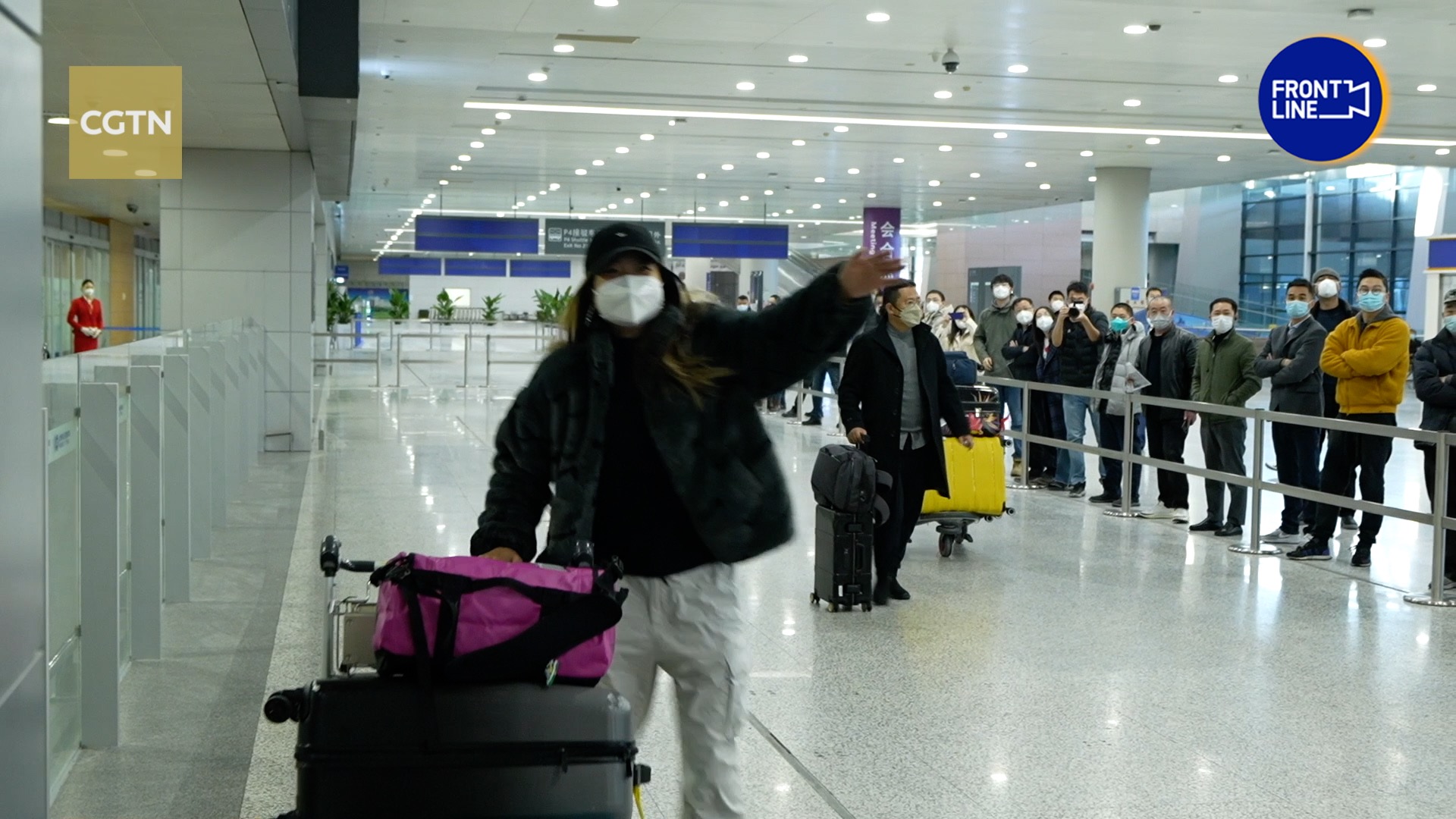 The businessman said he had been waiting for the opportunity for three years and the border reopening would definitely help his business.
A Myanmar woman, who works in Ruili, told CGTN that she was looking forward to returning her hometown as the border reopened.
At Shanghai Pudong International Airport, a man surnamed Jiang, who was the first to complete the immigration procedures, told reporters that "it is very convenient all the way from exit hatch to border inspection and clearance."
International travel saw a surge on the day the policy took effect, according to data from online travel platform Tongcheng Travel.
The data showed the number of inbound and outbound ticket orders on January 8 increased 628 percent year on year, hitting a peak since March 2020 when China worked to contain domestic COVID-19 outbreaks while preventing the virus from being imported.
Among them, inbound flight orders accounted for 48 percent and outbound flight orders accounted for 52 percent, showed the data, adding that outbound Chinese tourists who booked tickets through the platform flew to more than 100 cities in 53 countries and regions.
China announced in December that it was lifting COVID-19 restrictions that mandated international arrivals undergo nucleic acid tests and quarantine.
Inbound travelers only need to take a PCR test within 48 hours before departure, and they no longer need to apply for a health code from Chinese diplomatic and consular missions.
Jan 5 (Reuters) – Africa's top public health body said on Thursday that the Ebola outbreak in Uganda was coming under control, as it had been 39 days since the last confirmed case of the virus had been reported in the country.
Officials first confirmed the outbreak in September and said it was the Sudan strain of the disease, for which there is no proven vaccine.
Last month Uganda discharged its last known Ebola patient from hospital and President Yoweri Museveni lifted all Ebola-related movement restrictions, reflecting progress curbing the spread of the virus.
The Africa CDC's acting director, Ahmed Ogwell Ouma, told a briefing that if no new cases were reported in Uganda by Jan. 10 then the outbreak would be over.
He praised the Ugandan government's excellent coordination of Ebola-containment measures, saying it had taken around 70 days to bring the outbreak under control with 142 confirmed cases and 55 deaths. Vaccine trials against the Sudan strain of Ebola were ongoing, Ouma added.
African health authorities have made a concerted effort to boost their readiness to respond to Ebola following a devastating outbreak of the Zaire strain of the disease in West Africa in 2014-2016 that killed 11,300 people, mostly in Guinea, Sierra Leone and Liberia.
Ebola causes vomiting, bleeding and diarrhoea and spreads via contact with bodily fluids of the infected. The virus can sometimes linger in the eyes, central nervous system and bodily fluids of survivors and flare up years later.
The World Health Organisation says a country needs to pass 42 days – twice the maximum incubation period – after the last confirmed case for it to be declared Ebola-free.
Reporting by Estelle Shirbon Editing by Alexander Winning, William Maclean
AFP , Monday 2 Jan 2023
Schools in Malawi's two largest cities are to remain closed until further notice due to a worsening cholera outbreak, the government said on Monday.
Students were due back in class after the holidays on Tuesday.
But the health ministry said the start of the school term for primary and secondary pupils in the capital Lilongwe and the southern city of Blantyre would be delayed by at least two weeks.
Health Minister Khumbize Chiponda said in a statement the postponement was "due to the recent and continuing increase in the number of Cholera cases and deaths".
Authorities regretted "any inconvenience caused by this late advice taken solely in the interest of the safety of our learners", she added.
The impoverished southern African country has recorded almost 18,000 cases of the disease and 595 deaths since March in what the UN has said is the largest outbreak to hit the nation in 10 years.
Cholera is contracted from a bacterium generally transmitted through contaminated food or water.
It causes diarrhoea and vomiting, and can be especially dangerous for young children.
On New Year's Eve, Chiponda renewed appeals to faith leaders to encourage followers to seek treatment as some were avoiding care on religious grounds.
In September, the World Health Organization (WHO) warned that after years of decline, the planet was witnessing a "worrying upsurge" in cholera outbreaks, with climate change adding to traditional triggers such as poverty and conflict.
Worldwide, the disease affects between 1.3 million and four million people each year, causing up to 143,000 deaths.
The authorities say the schools will remain closed for at least two weeks
By Peter JegwaLilongwe, Malawi
The authorities in Malawi have suspended primary and secondary schools opening in two major cities following a cholera outbreak that has so far killed 595 people.
Schools in the capital, Lilongwe, and the commercial hub, Blantyre, will remain closed for at least two more weeks after the Christmas holidays.
The cholera outbreak began in March 2022 but has become acute lately.
Nineteen people died on New Year's Eve alone.
Cholera is contracted by eating food or drinking water contaminated with the bacterium Vibrio cholerae. It can affect children and adults, causing severe diarrhoea, and can kill within hours if left untreated.
Health authorities say that the onset of the rainy season could be making the situation worse as flood waters mixed with waste pollute water sources. A lack of proper drainage in both cities is also a factor.
The outbreak has spread to nearly all of Malawi's 28 districts.
The Africa Centres for Disease Control says it is concerned about the rise in cholera deaths in Malawi, which it attributes to patients not getting treatment in time.
Monday's announcement has angered some parents who say their children were already on their way to school, which had been due to reopen on Tuesday.
Health Minister Khumbize Chiponda said the government regretted any inconvenience and that "the late advice was taken solely in the interest of the safety of our learners".
She said that school reopening will be delayed for at least two weeks, but further advice would be given.
Additional reporting by the BBC's Africa health reporter, Rhoda Odhiambo
PARIS, Dec 27 (Reuters) – Niger has reported the highly contagious H5N1 strain of avian influenza, or bird flu, among poultry in a village in the south of the country, the Paris-based World Organisation for Animal Health (WOAH) said on Tuesday.
The outbreak in the south of the Tahoua region killed most of a 4,920-strong flock, with the remaining birds slaughtered, the WOAH said in a note, citing information from the Niger authorities.
The outbreak of the virus, the first in Niger since July 2021, occurred in poultry ordered from the Zinder region by a local non-governmental organisation, WOAH added.
Parts of Africa have been affected by an unprecedented global wave of bird flu infections in the past year, which has led to the death of more than 100 million birds in Europe and the United States alone.
Reporting by Gus Trompiz; Editing by Kirsten Donovan